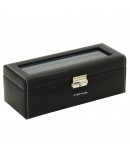 Black watchbox for 4 watches
Watch Box for 4 watch, synthetic leather black. For all size watch. Super Soft pillows 5.5cm width blue.
Watchbox Friedrich23 for a perfect storage for normal or extreme big watches. The box outside is manufactured with synthetic leather black. Its felt-lined interior holds 4 watches. Accepts large watches up to 50 mm wide. Super Soft pillows.
Size: 24x9.5x8.5cm
Pillows width:5.5cm
Colour: black and blue
new collection
Same Category