Questions about choosing a watch band? Feel like a change? In this file you will discover everything about this watch accessory, which must be in harmony with the dial and the colors of your timepiece but also with your clothing. Feel like a change? You will see here that several types of bracelets can be adapted to the same watch, going so far as to radically transform its look and style.

NATO straps, alligator straps, men's leather straps or rubber straps... the choice is vast, in terms of materials, colors, dimensions, style or technicality! Don't hesitate to contact us by phone: 0033 9 80 84 88 08 cost of a local call.
Check the exact measurements of your bracelet!
The different types of watch straps
Harmony of colors is essential!
Pin buckle or folding buckle ?
How to change your watch strap ?

.

.
Dimension of a watchband : How to measure it exactly ??
Check the width of my watchband :
Before any purchase of a watch band, it is necessary to make sure of its exact dimension! The main measurement of a watchband is its "width" at the point of attachment. This width is measured at the level of the watch case, between the two "lugs" where the bracelet is fixed. This width is called the "lugs gap". Simply measure the exact distance (with a double decimeter or ideally a caliper).
The standard widths found on watches are generally: 16mm -18mm- 20mm - 22mm - 24mm.
Straps in 19mm or 21mm are quite rare.

Example: If the lugs of your watch are 20mm wide (like almost all Rolex watches), then you should choose a bracelet in the "20mm" category.

Conclusion: Do not simply measure the width of your old bracelet but measure precisely the distance between the lugs of the watch, which is preferable!
.

.
The width of the buckle:
The width of the buckle is measured in the same way, on its inner part, where the bracelet is attached to it by a spring pump. A buckle is usually less wide than the bracelet (usually 2mm less).

Thus, a 20mm bracelet will often have an "18mm" buckle. That is to say a 20/18 bracelet reference.
Another example: a bracelet of width "24mm" will generally be equipped with a buckle "22mm", that is to say a bracelet category "24/22mm" (24mm lugs and 22mm buckle).

The width of your buckle does not matter, since our bracelets are sold already equipped with their original buckle. However, if you absolutely want to reuse your current buckle, then the width of the buckle must be measured precisely to ensure that the size corresponds when the new bracelet is wound.
The length of a standard bracelet is 20cm
Standard bracelets are approximately 20cm in length (L). The "short strand" is usually 8cm, and the "long strand" is 12cm. Other sizes exist, like the XL (22cm) or Medium (18cm) length.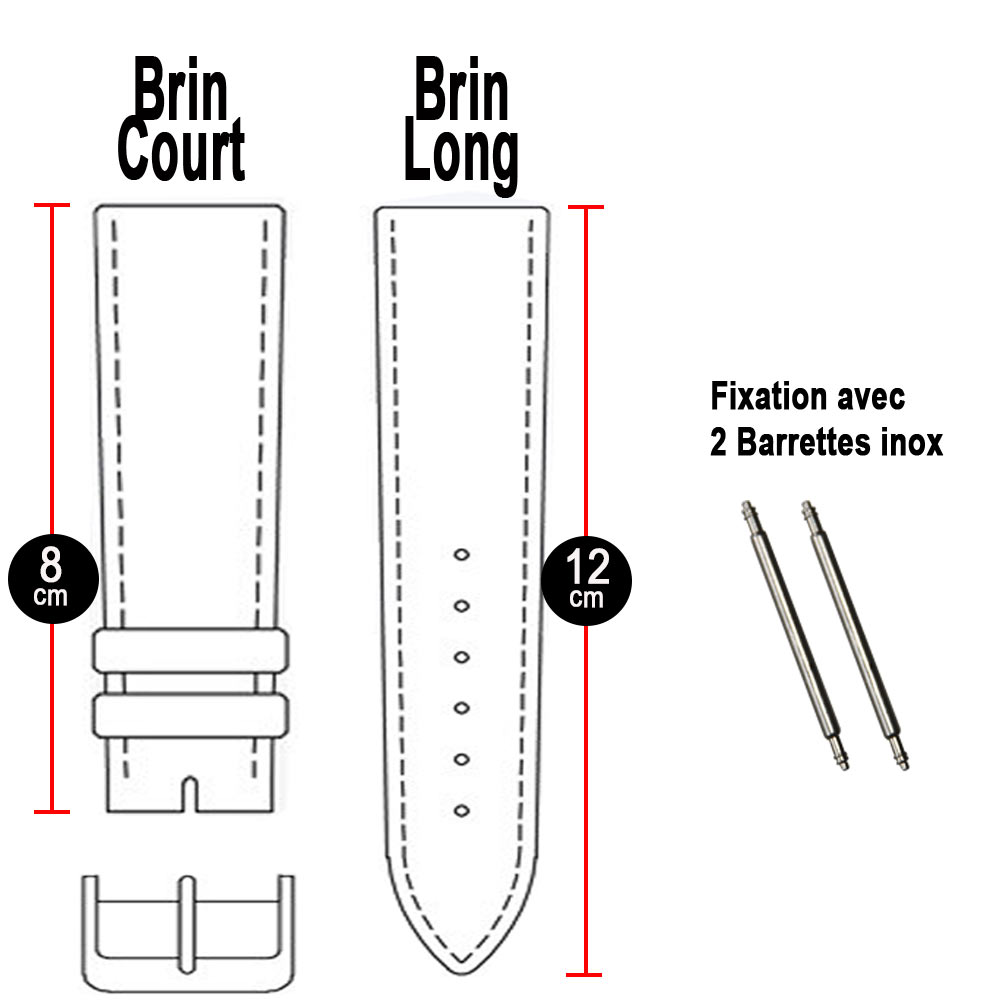 .
Remove your bracelet to measure the right dimensions:
To take the right dimensions, you need to remove your watchband beforehand. Nothing could be easier if you use the right tool! Such a tool is equipped with a fork at its end (never use a screwdriver). The handling is simple:
Open the strap and place the watch upside down and flat on a non-slip surface
Insert the fork of the tool between the strap and the horn of the watch case
Hook the spring pump through the band
Compress the spring pump so that it unhooks from the horn of the watch
Tilt the bracelet which will be thus released completely
Same manipulation on a metal bracelet.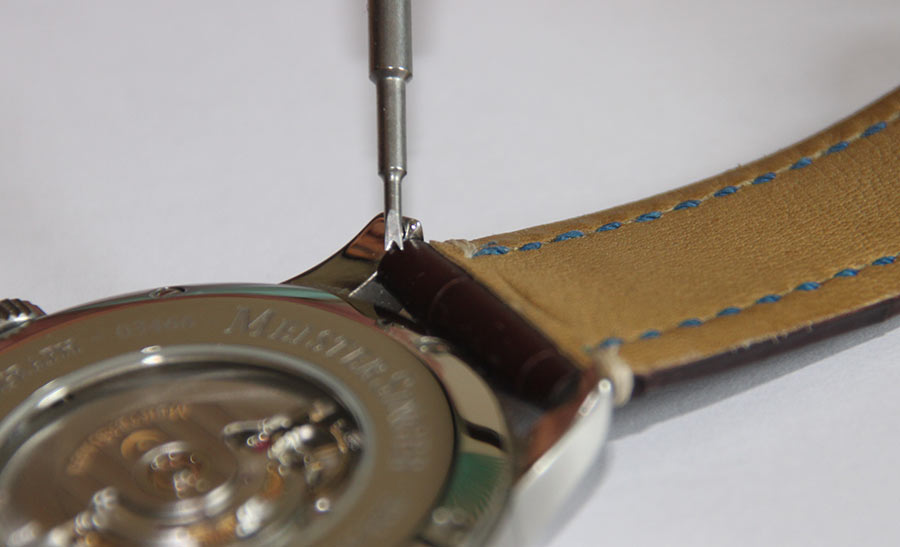 .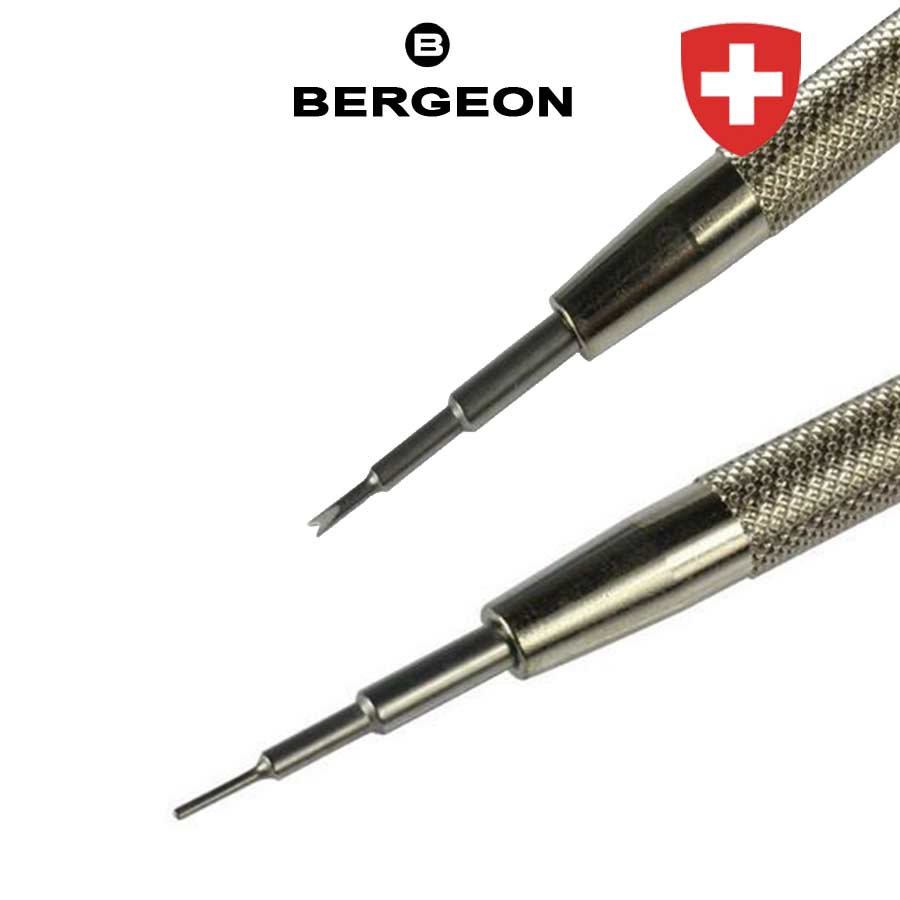 .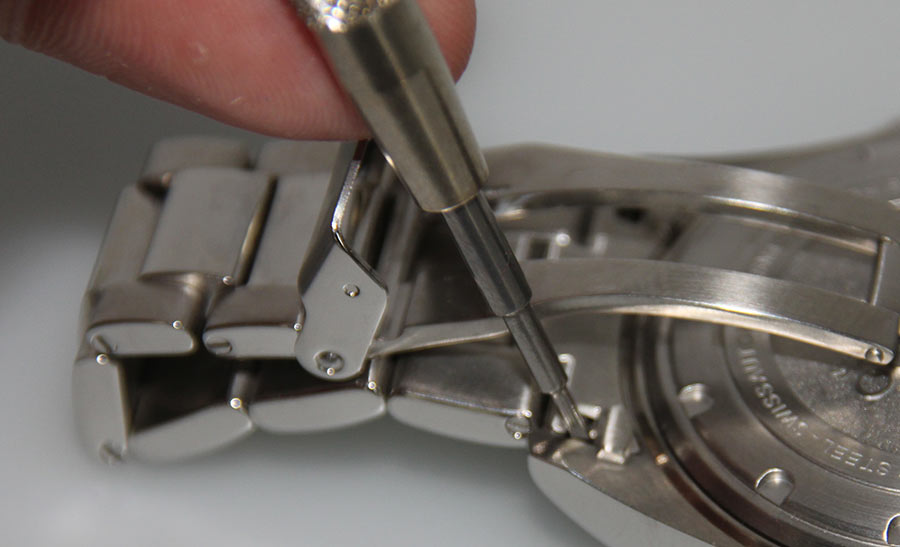 .
The tools for removal of bracelet:
Many tools for removing bracelets are available on the Internet from a few euros. However, beware of the source of the tool (Chinese?), its material and its fineness! Indeed, a low-end tool will break quickly, a poor quality steel tool will have a fork that is too thick and will damage the bracelet or scratch the watch.

Opt for thin forks! The reference tool is the Swiss made BERGEON 6767F, F for fine fork. With its stainless steel tip, it is extremely fine and long lasting... Its price is 19.90€, the reference for all professional watchmakers.



Clic here to BUY this tool on e-Shop
.
The stainless steel bars must be changed regularly:
The bracelets are generally fixed to the watch with spring bars. It is imperative to opt for marine stainless steel bars. It is sometimes necessary to check their condition (twisted? seized?) and changing them for new ones when installing a new bracelet is essential!
New bracelet = new spring-bars!
Standard bars are available in 1.5mm diameter. However, we recommend that you choose 1.8mm diameter stainless steel lugs, which are more robust, especially in the case of NATO bracelets.

Example : for a "20mm" lugs bracelet, you should choose to install new "20mm" spring-bars
.
.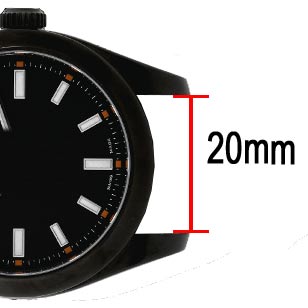 .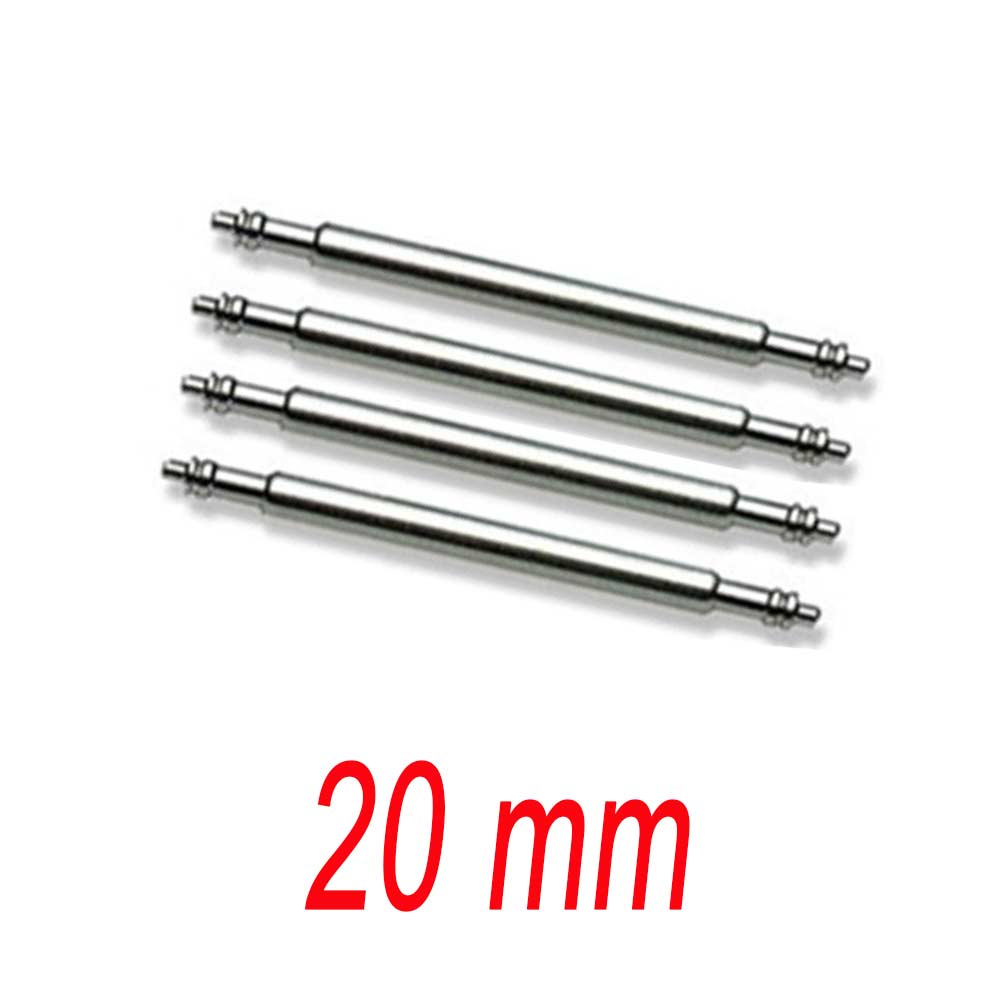 .
The spring bars with "quick release system":
This quick release system allows to remove your bracelet without tools. A small stainless steel nipple is operated with the fingernail and the spring pump is compressed allowing its removal from the watch. Very useful for a quick color change.

However, be careful to take the exact dimensions: a 20mm quick released bracelet will only fit on a watch with an exact 20mm lugs width! If the actual lugs of the watch measure 21mm, then the 20mm strap will not fit properly.

The HIRSCH watch band range now offers this type of "quick release" system on the majority of its range with robust and excellent quality QuickRelease spring-bars. (photo 1 below).

The quick release clips (see photo below) can be permanently removed and replaced by standard stainless steel clips if your watch is slightly larger: simply remove the nipple that protrudes from the bracelet with pliers, then remove the clip and replace it with a standard stainless steel pump-spring clip (see 4th photo below) ::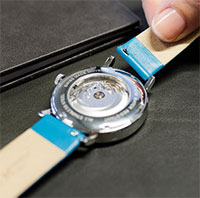 .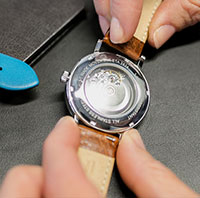 .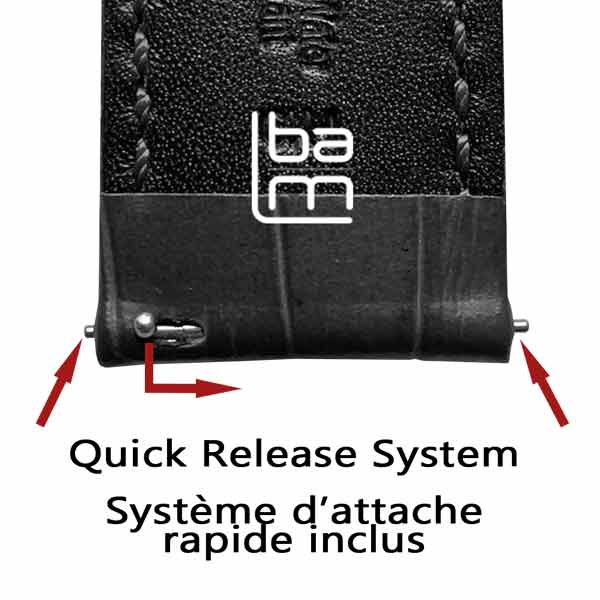 .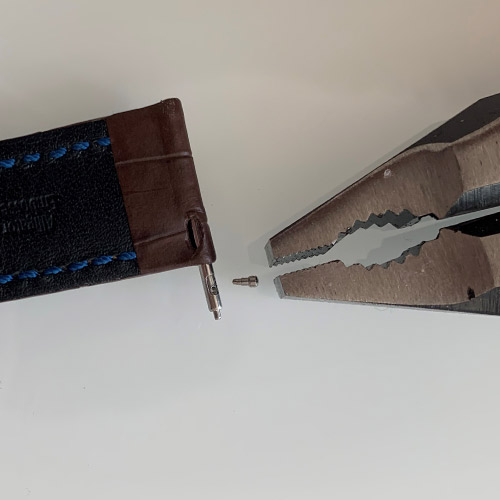 .
Installation of a watch band in video:
.
.
The different types of watch straps?
The NATO bracelet, in full expansion
Easy to install, it is water resistant and non-deformable. World-famous since its appearance on James Bond's arm, once on a Rolex Submariner, and more recently on an Omega Speedmaster in the film Spectre 007, this nylon bracelet is adjustable to all wrist diameters and is machine washable. The Daniel Wellington brand has also popularized this type of striped look.

With a low price (from 19€ on our site, European manufacturing and with marine stainless steel buckles), the N.A.T.O bracelet is available in different widths and many colors. Beware of counterfeit bracelets (Asian bracelets around 10€) with light seams and buckles that deform.
History of NATO

Combining technical qualities and fashion character, this watchband has acquired great popularity. It is a real fashion accessory, which can be very colorful and with a strong character! Historically, its production only really started in 1973 at the request of the British Ministry of Defense (British MOD), because leather straps were technically limited for certain uses. NATO comes from the word O.T.A.N... The nylon strap in James Bond Goldfinger was initially khaki striped black and red... and was a simple nylon band.  The first NATO of 1973 were more complex and only existed in grey color: the G10 Admiralty Grey. The specifications of the time remain the same as today:


    Large main nylon piece of 27cm long that goes around the wrist or even the wetsuit;
    Stainless steel marine buckle in one piece for more security (without a fixing pump because it is too fragile) and sewn directly with the fabric;
    Thickness from 1.2mm to 1.5mm max;
    Heat sealed holes to limit deformation;
    Strong nylon stitching;
    Rectangular stainless steel loops, or rounded Zulu type loops.
The NATO bracelet measures 27 cm... it is still a little too long? This is quite normal! The last centimeters must be folded in the last loop. This way, the bracelet is not cut. It fits all wrist circumferences.



.
The advantages of the NATO bracelet:
The strong points of this type of bracelet are numerous and make its success in everyday life:


    Secure: in case of accidental breakage of a fastening bar, the watch will not be lost and will remain attached to the second bar;
    A sporty and casual style, unique and colorful for any type of watch, even for high end watches;
    More resistant than leather to the outside environment;
    The watch is held between two loops;
    Once installed, no tools are needed to change the color of the strap by replacing it (an operation that takes 15 seconds!)
The recent appearance of the NATO bracelet in leather or rubberized crocodile brings a touch of elegance in addition to extravagance! A trendy style that is popular with collectors of major watch brands such as ROLEX, Omega, Panerai and others...
Know how to harmonize a NATO bracelet with your watch and your outfit!
The NATO bracelet will adapt to all styles of watches, as long as you respect a harmony in the color themes! For example, a bracelet with beige or sandy lines will fit perfectly with a vintage watch with patina indexes. Conversely, a NATO with white or brightly colored lines will be used on a modern watch with white hands! ROLEX Submariner watches with black dials are the stars of the multi-colored NATO strap! And your ROLEX becomes more FUN!

In addition to harmonizing a NATO with your watch face, it is also possible to match it with a dress color code of the day! The rule remains the same: I have beige pants so I install a NATO with beige mesh if the watch is vintage. Otherwise a khaki NATO will match perfectly with my beige pants if my watch is modern (so very white).

Changing a NATO strap in the morning is very easy: it takes less than 15 seconds to remove and replace a NATO strap on a watch!

Here are two pictures of alliances between NATO color and dial details: the perfect harmony!
NATO with beige or mostly beige net with red net on a ROLEX 5513 Vintage patina watch

NATO white line on modern Jaeger Lecoultre Master Compressor watch...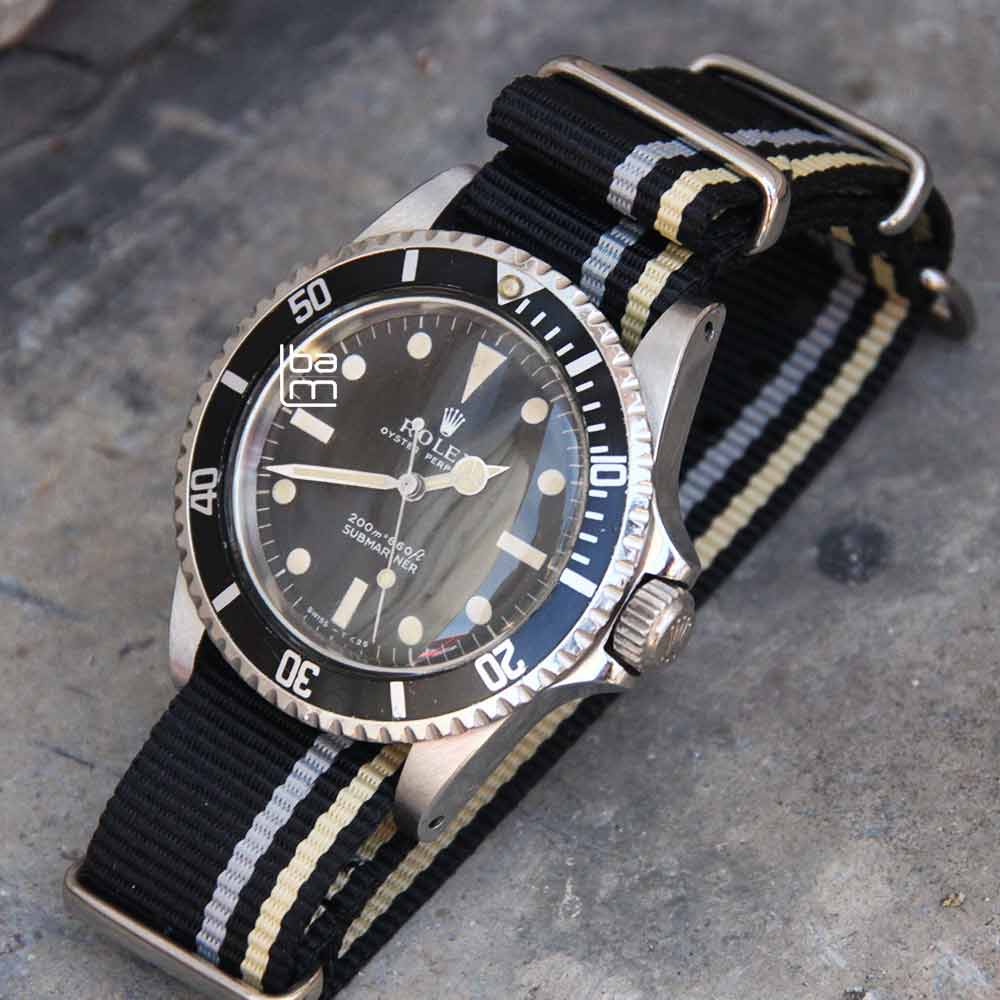 ..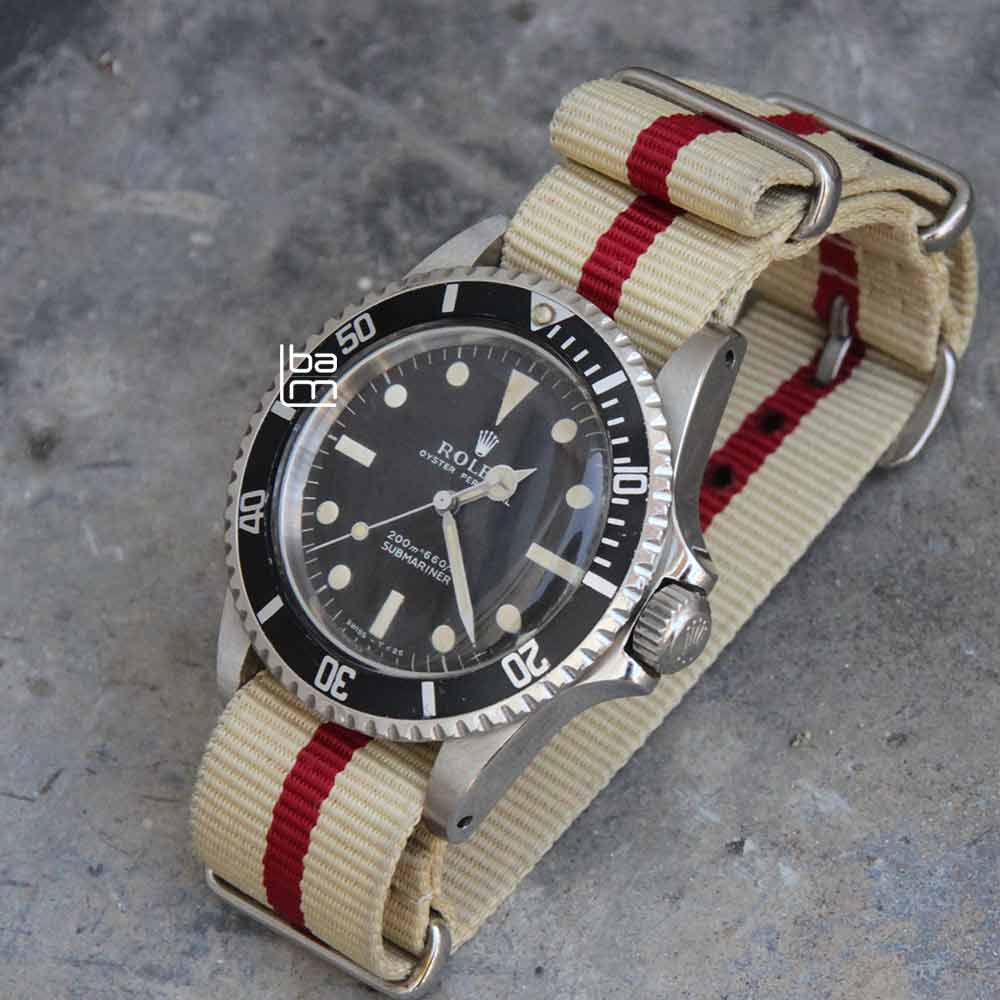 ..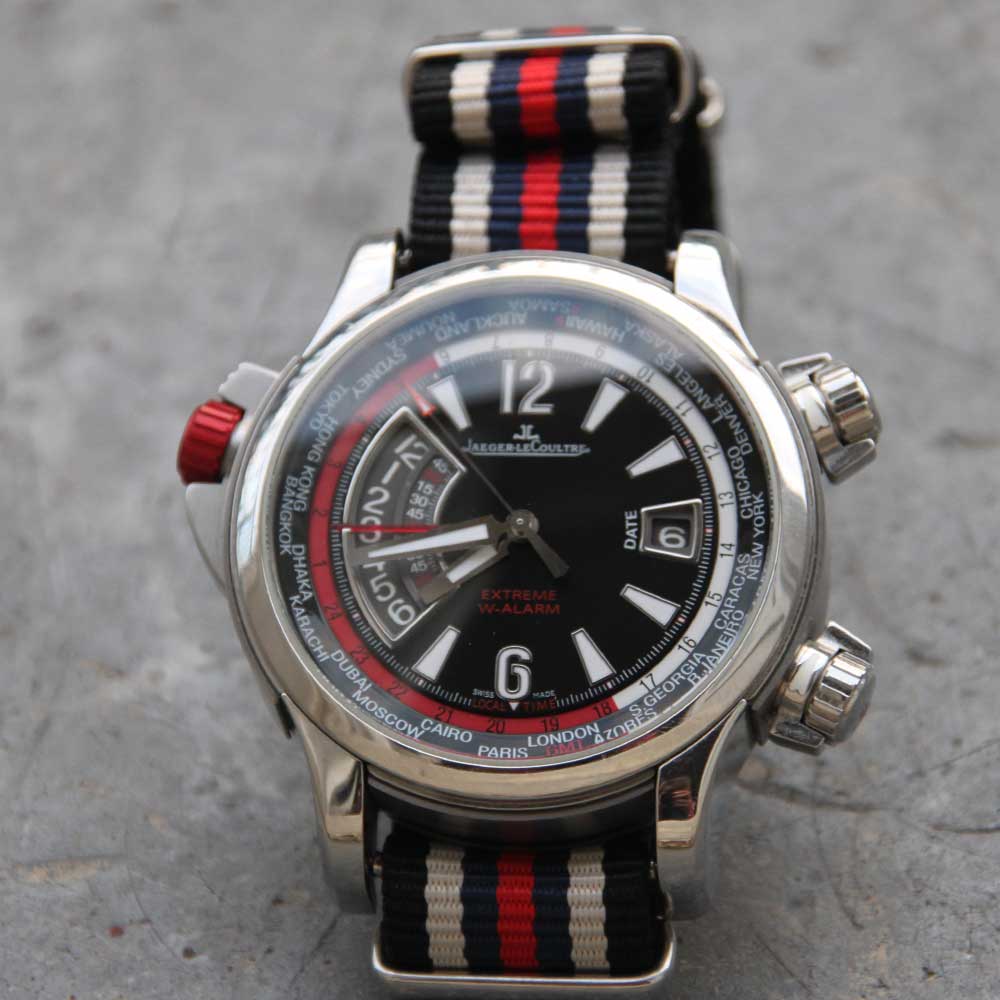 .
NATO straps for connected watches:
The disadvantage of the standard NATO strap is that it goes around the arm and therefore prevents the sensor of connected watches (Apple Watch style) from touching the skin. Don't panic, NATO straps in 2 parts have appeared, especially due to the historical rise of the TUDOR Black Bay. They have the NATO look but are attached like a standard watch band with 2 stainless steel pumps. They are available on our website in 20mm width.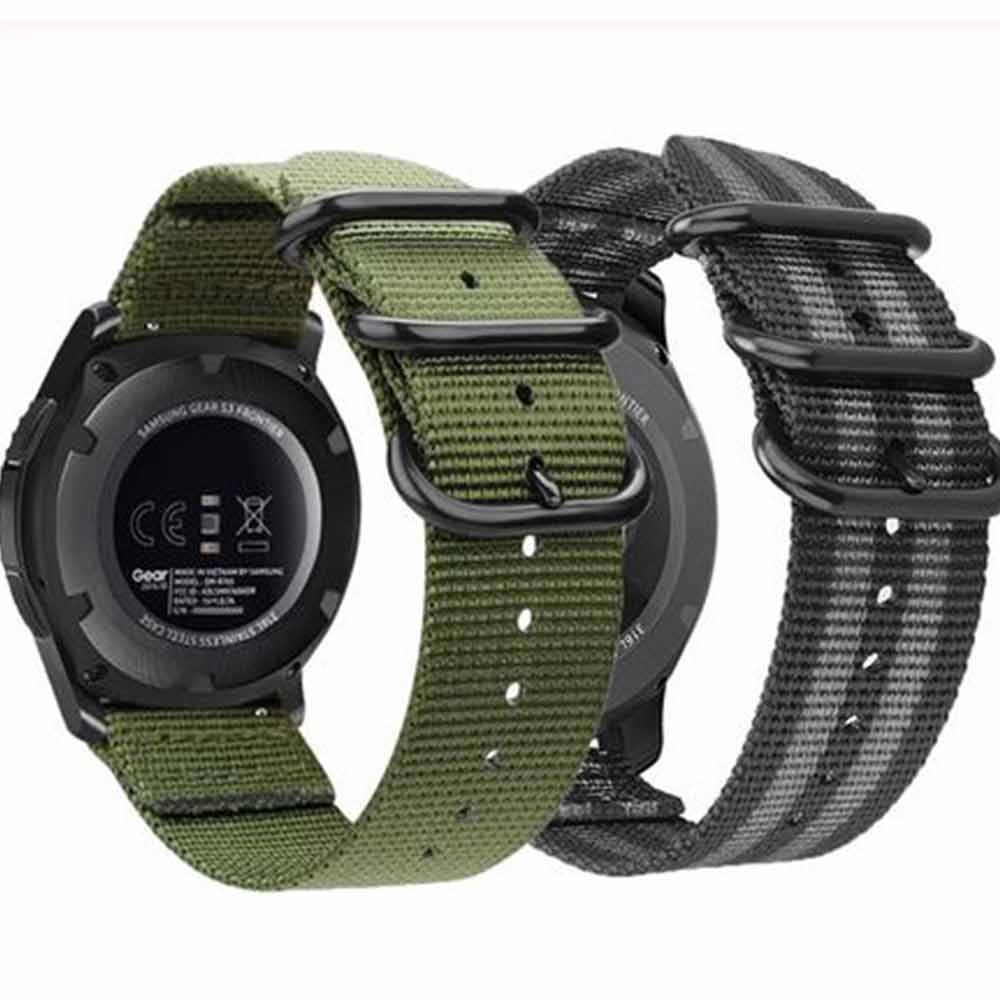 . .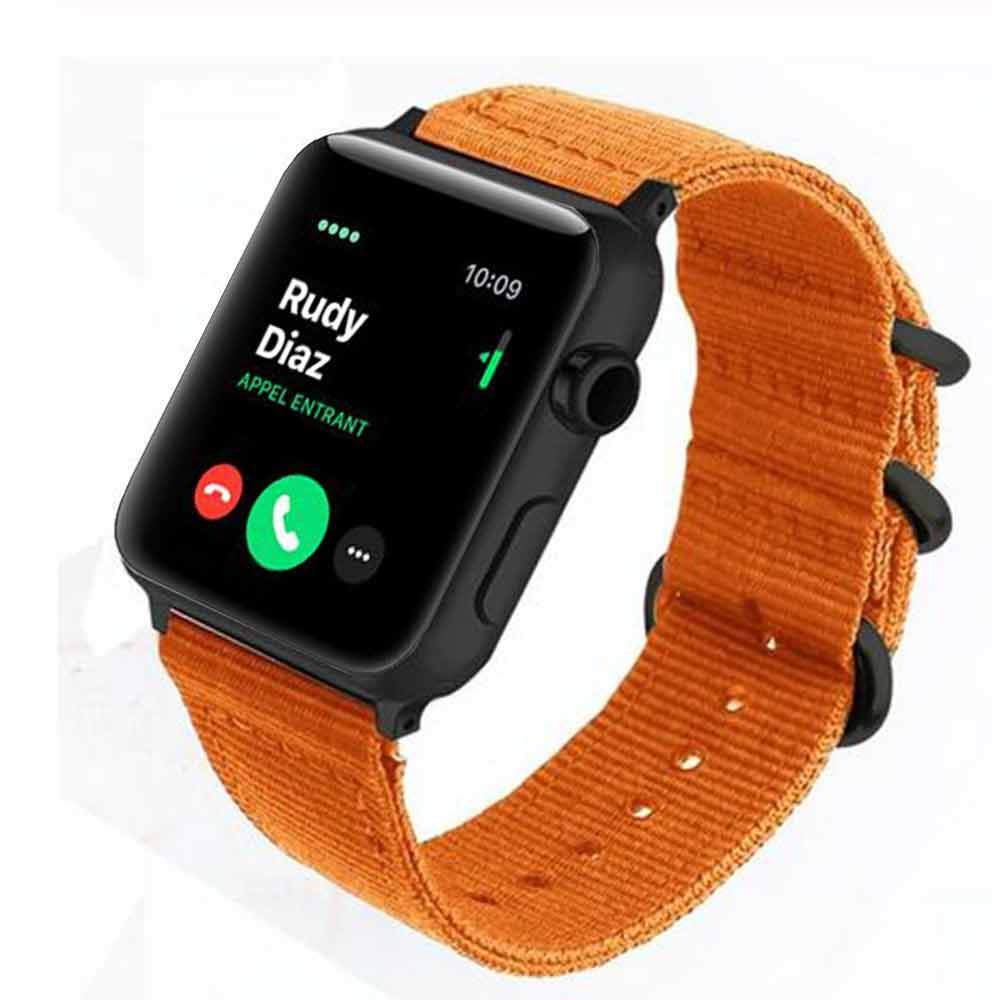 NATO STRAP for Connected watches on our E-SHOP
.
The 5 essential basic colors to start a NATO collection!
Here is the list of the 5 great basics to have absolutely at home for your personal wardrobe! These 5 colors are compatible with any watch, black background, old or modern:

The black NATO bracelet, the NATO GULF, the black grey James Bond NATO, the black red NATO Goldfinger Kaki, the red white NATO net.
.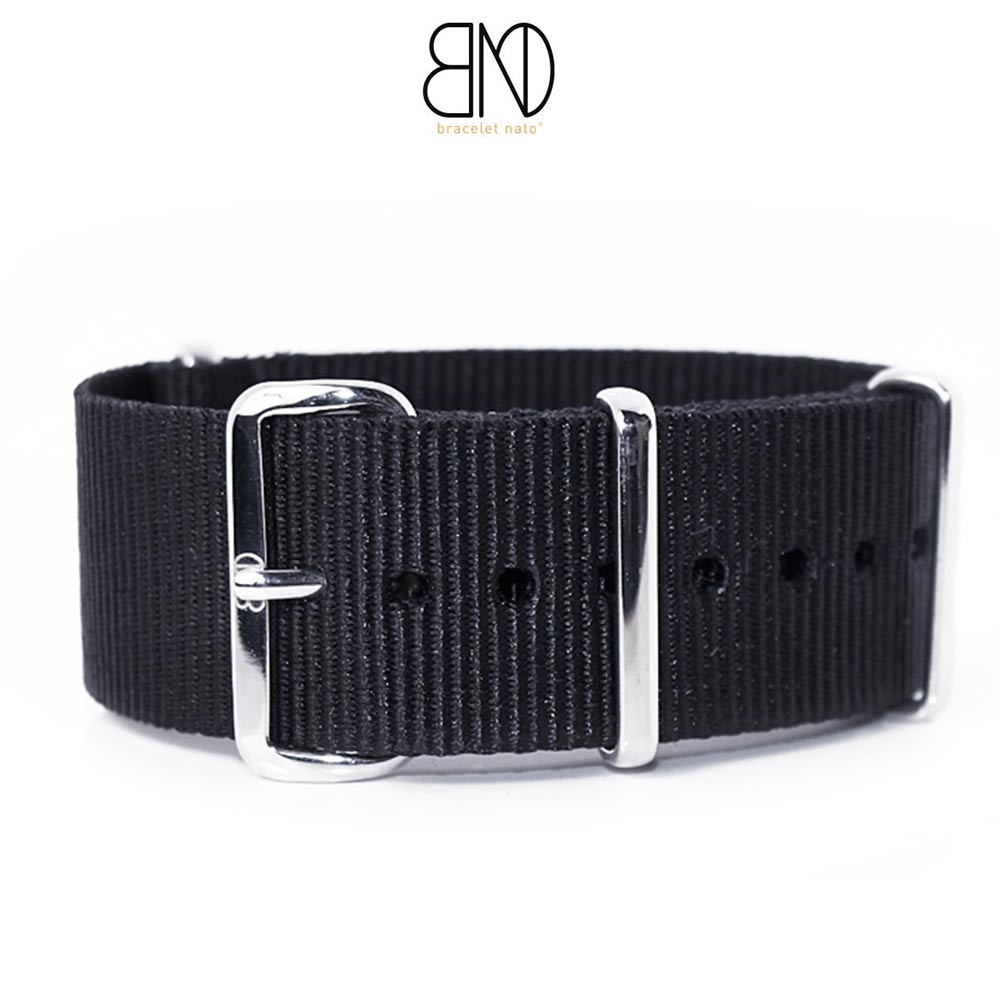 .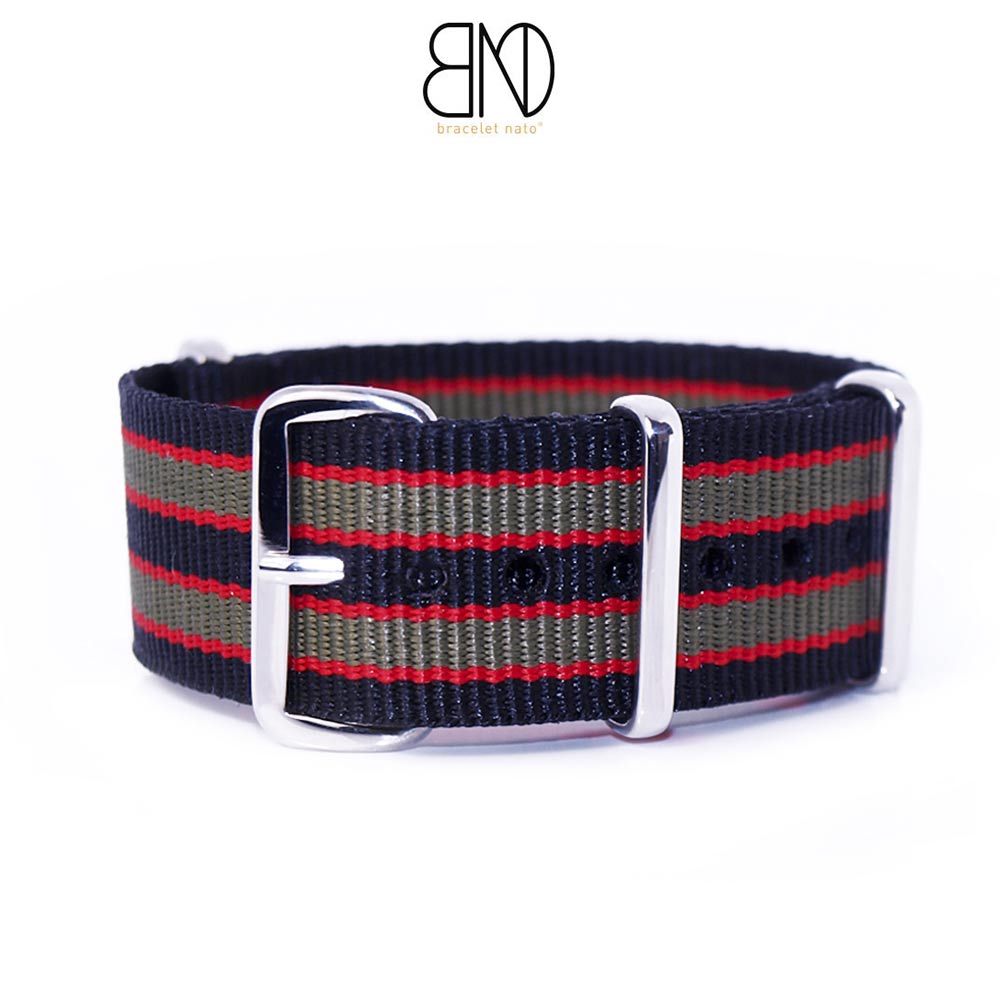 .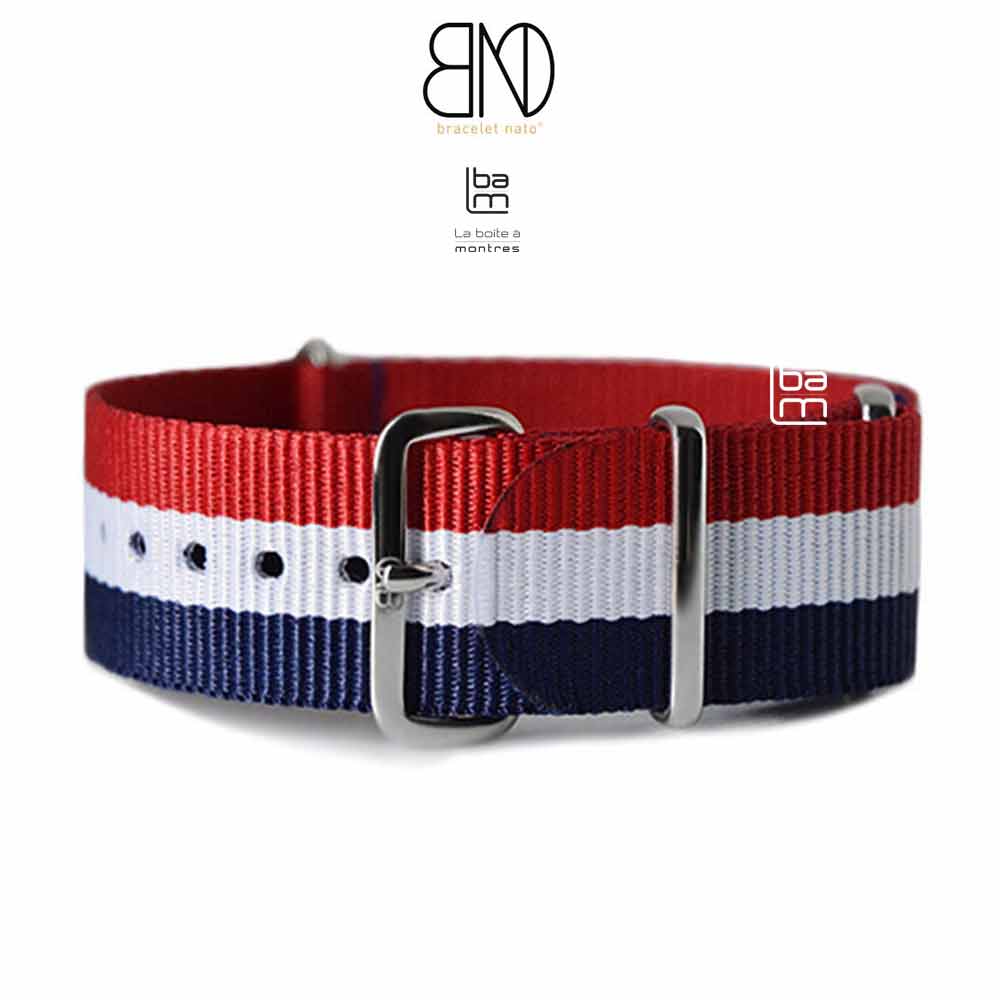 .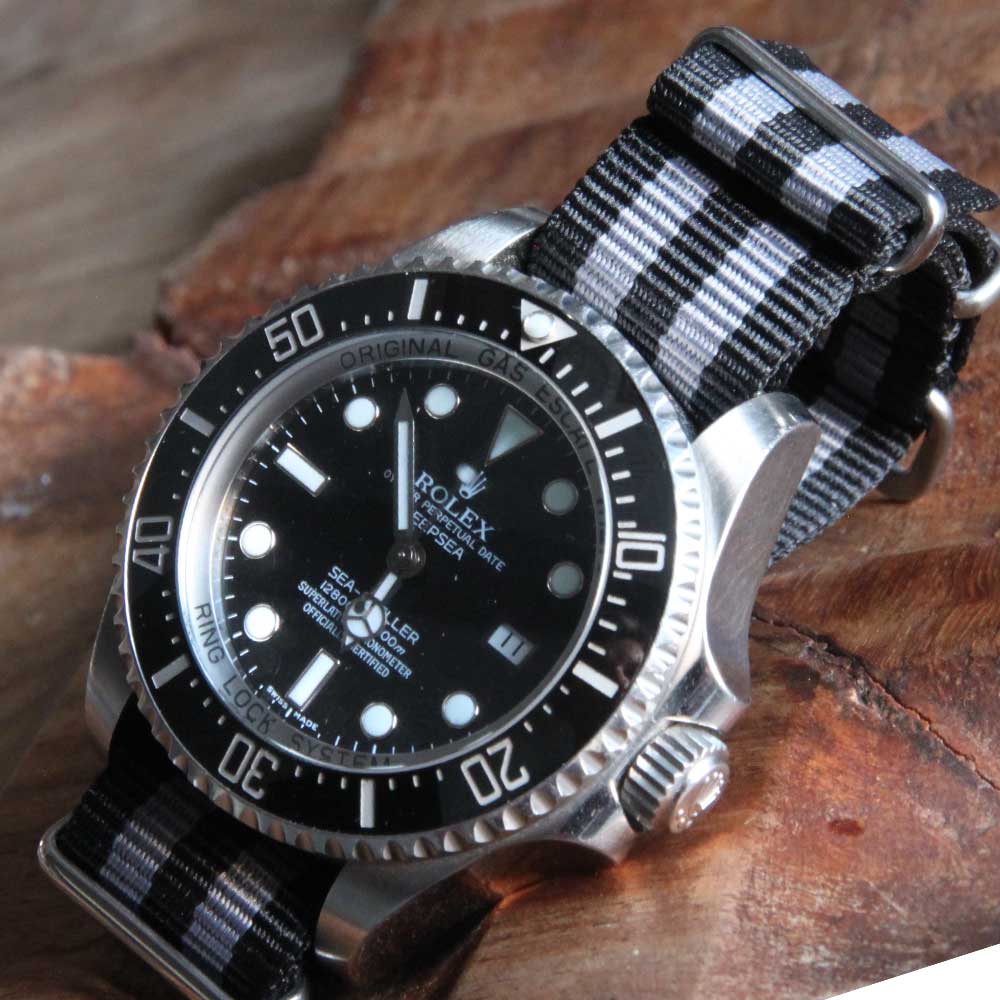 .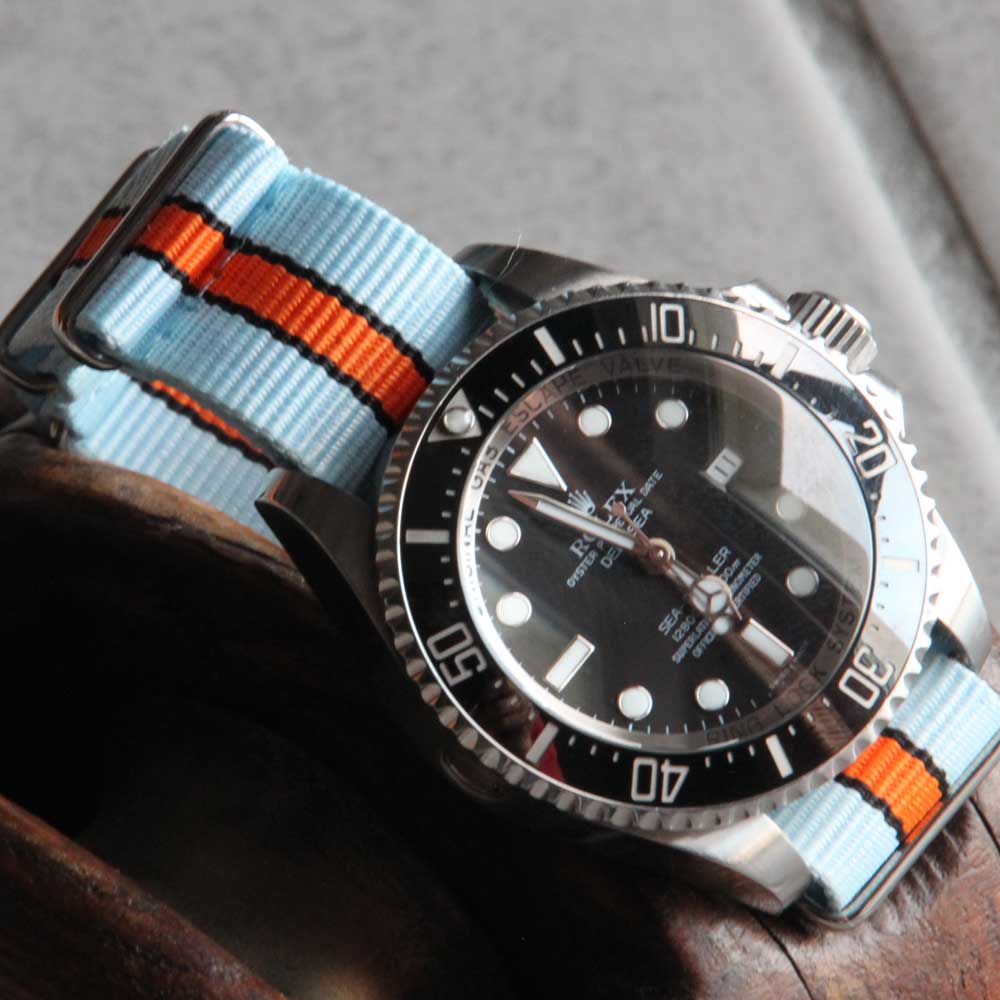 The most common size remains the width 20mm (compatible with all ROLEX and most OMEGA watches. However, some brands require other dimensions. As such, our website offers a wide range of NATO in several colors!
Click below to discover our range of NATO straps according to the desired width:
NATO 18mm . NATO 20mm . NATO 22mm . NATO 24mm . NATO 19 & 21MM .

.
How to install a NATO Strap in video:
.
Leather watch straps:
Many manufacturers offer different types of leather watch straps. However, be careful about where your bracelet comes from and the choice of leathers used. Low-end bracelets are made with CHROME-tanned leather. This is a source of allergies, and the bracelet will be stiffer and of short duration.

VEGETABLE TANNED LEATHER: offered on HIRSCH and AREZZO STRAPS brands. Vegetable tanning uses no chemicals (no chrome) but tree bark. Vegetable tanning is a very old process, but it is still used today. It obviously seduces all lovers of eco-design. Oak bark is widely used and the most widely used because it is one of the richest in tannins. The skins are naturally hypoallergenic after several months in the barrel. The leather resulting from this process will be more supple and the pigments used are also natural. The different types of leather are described below..
.
Discover HIRSCH Bracelets . . Discover AREZZO Bracelets .
.
The nubuck cowhide watch strap: charm and elegance:
Very soft to the touch and very supple, the real "nubuck" has a warm and silky aspect. This soft touch is obtained after sanding the surface of a cow or buffalo skin. Nubuck watchbands are generally thin in structure and therefore very light and comfortable to wear.
Hirsch OSIRIS bracelet (nubuck surface and smooth leather lining)

AREZZO Nubuck SLIM (vegetable tanned nubuck on both sides)
.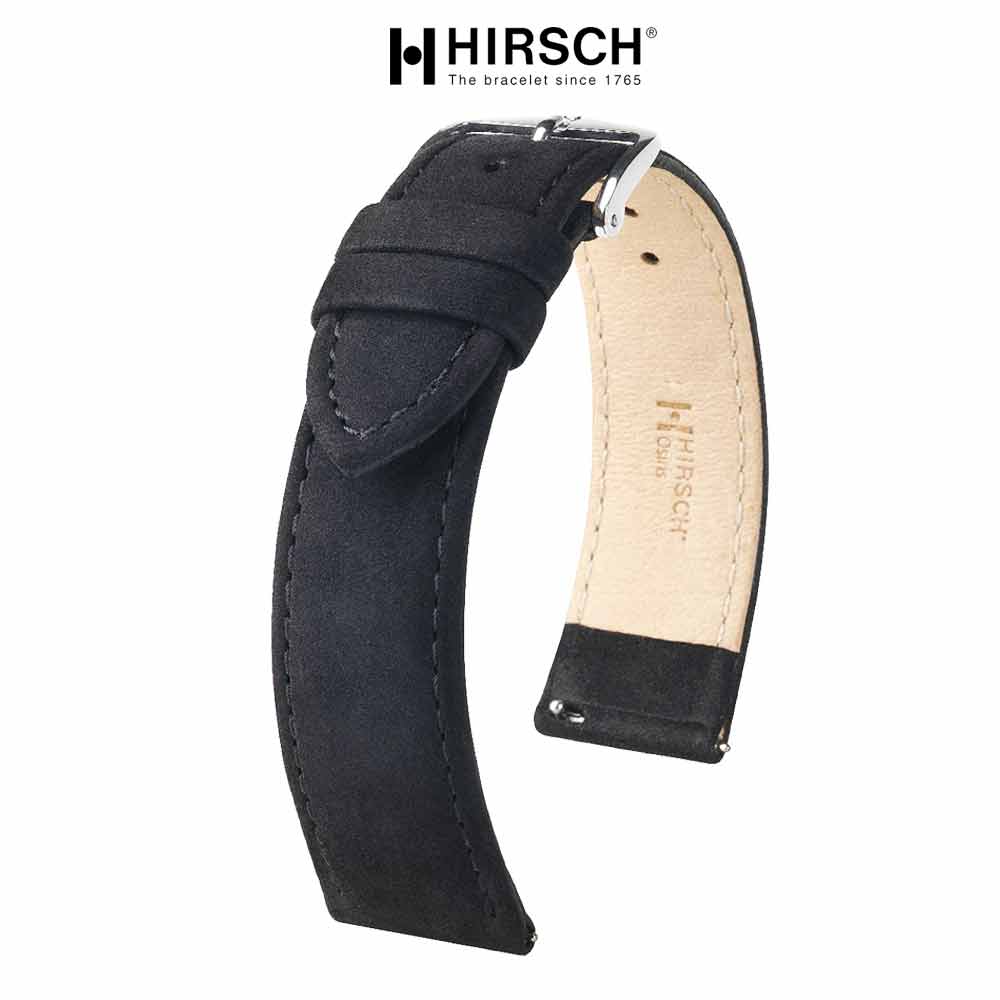 . .
.
Watch straps in classic leathers - cowhide - calf - buffalo:
The standard leather straps are manufactured by a process of gluing in multi-layers of leather, and generally sewn. The lining leathers must be hypoallergenic (vegetable tanning).
The structures are curved or flat, depending on the style chosen. The seams can be "contrasted" for a more sporty look, or the same color as the surface leather for a more "classic" effect. This is called "tone on tone" stitching.

Regarding the "side edge" of the bracelet, different finishes exist:

The "padded" leather: the surface leather covers the side edges of the bracelet and goes back underneath to be hidden by the lining. This is generally used for curved and classic bracelets. The curvature is obtained by gluing a rounded waterproof foam just below the top layer of leather. (see photo of cut below).
The Cut Edge or "cut edge" consists of making a bracelet with different layers superimposed sandwich type, which will be cut vertically by a shoetree. A full side seam can be applied, or simple "vintage" seams typical of Italian bracelets. The "cut" side edge is then brushed with a light protective layer (latex) to limit the entry of moisture between the layers.



Picture of bracelet cuts: on the left a CUT EDGE bracelet with a protective latex coating on the side.

On the right, a leather strap with side padding and a curved look (central foam).
.

.
The embossed cowhide crocodile or alligator
The embossed leathers are classic cowhide (soft texture) struck under press with a pattern of scales (crocodile or alligator scales square). It looks like alligator... but it is not alligator! The imitation is surprising, as long as the leather is given a specific colored patina. This allows some mid-range manufacturers to offer a luxurious "alligator" look for the price of a classic bracelet. The best example is the Hirsch range with its two bestsellers  bracelets between 36€ and 50€:
Hirsch DUKE golden brown and Hirsch Grand Duke waterproof black couture red.

Available on our e-shop from 18mm to 24mm width.
.
.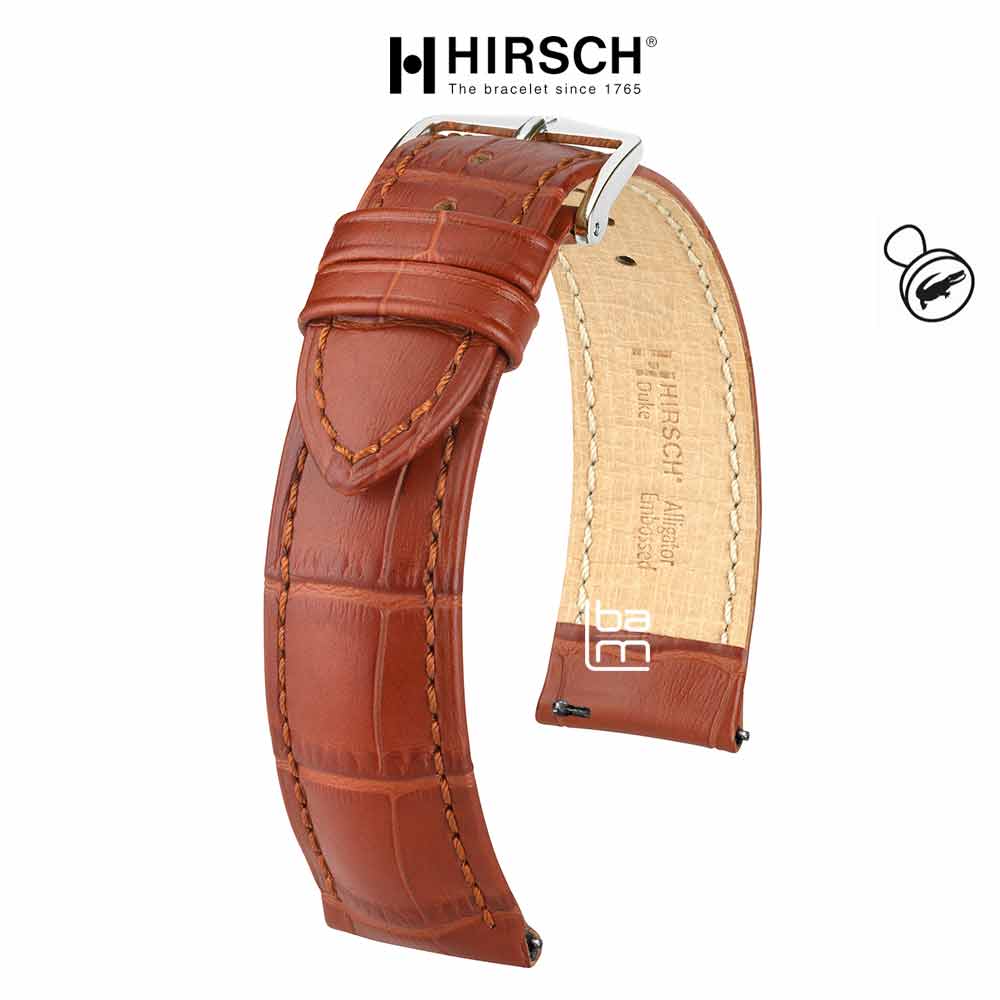 . .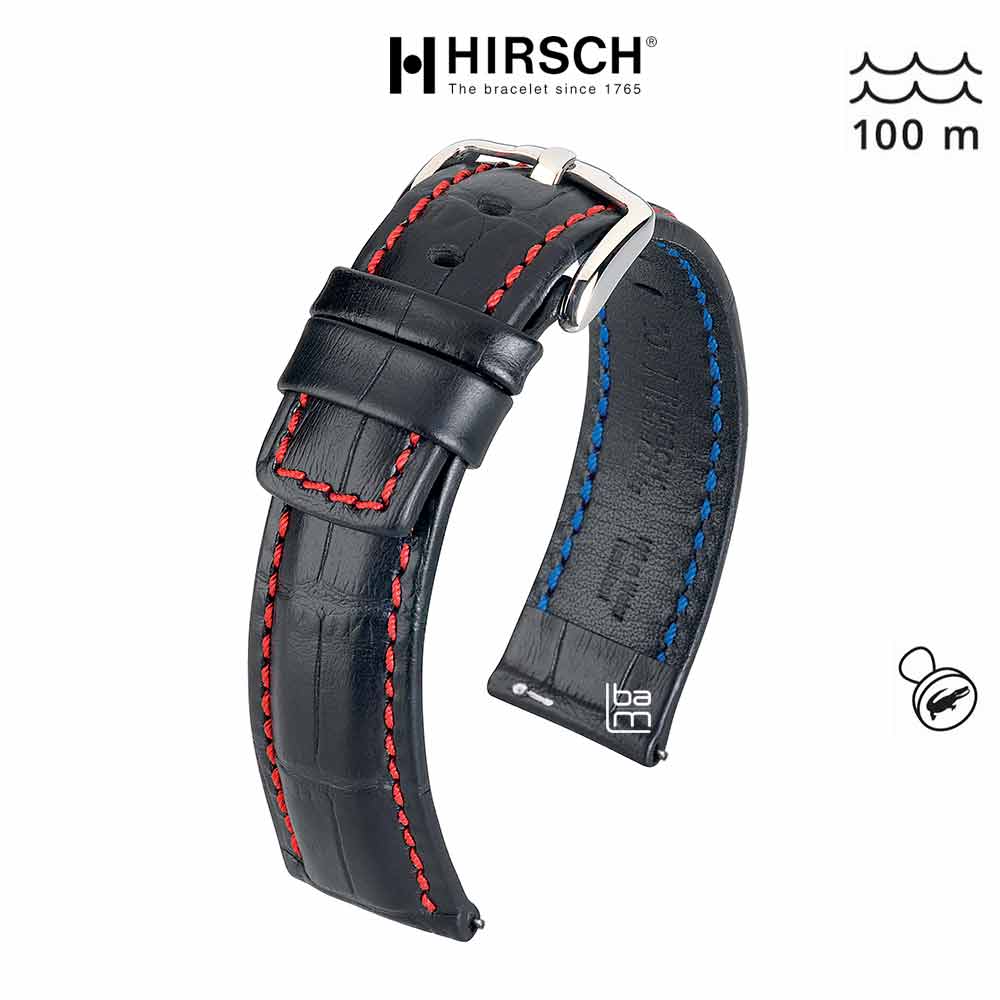 .
Waterproof leathers:
Made from a specific tanning process enriched with oil, some leathers are totally waterproof! Very useful for sportsmen who want to jog or swim with their watch on their wrist.
In some very technical cases, waterproof bracelets are equipped with real rubber linings and specific seams and bonding to ensure perfect waterproofness. Longer life but very sporty look because the leathers are often embossed (stamped) carbon.



Issus d'un procédé de tannage spécifique enrichi à l'huile, certains cuirs sont totalement imperméables ! Très utiles pour les sportifs désireux de pratiquer footing ou natation avec leur montre au poignet.
Dans certains cas très techniques, les bracelets waterproof sont dotés de doublures en caoutchouc véritable et de coutures et collages spécifiques afin de garantir une étanchéité parfaite. Durée de vie rallongée mais look très sportif car les cuirs sont souvent embossés (frappés) carbone.
Below 2 examples in pictures:

Hirsch Carbon orange bracelet vs AREZZO Racing carbon multicolor
.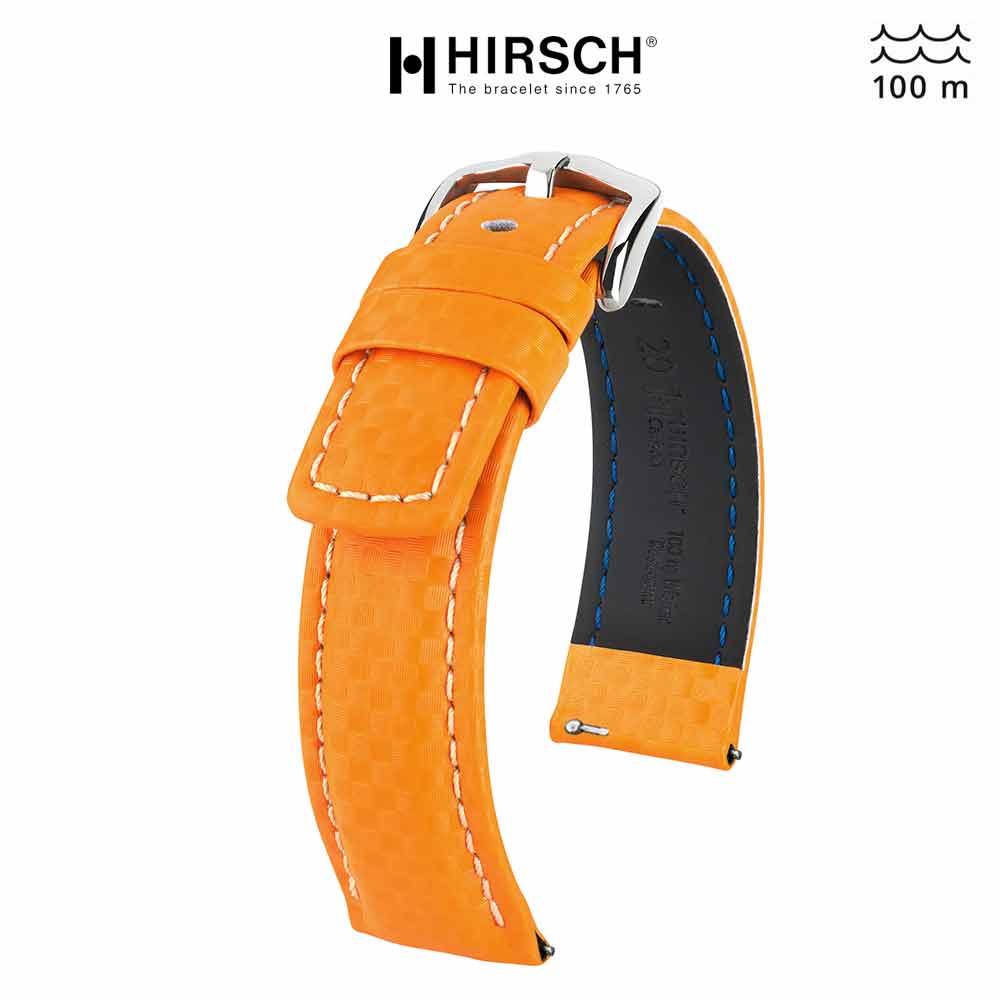 . .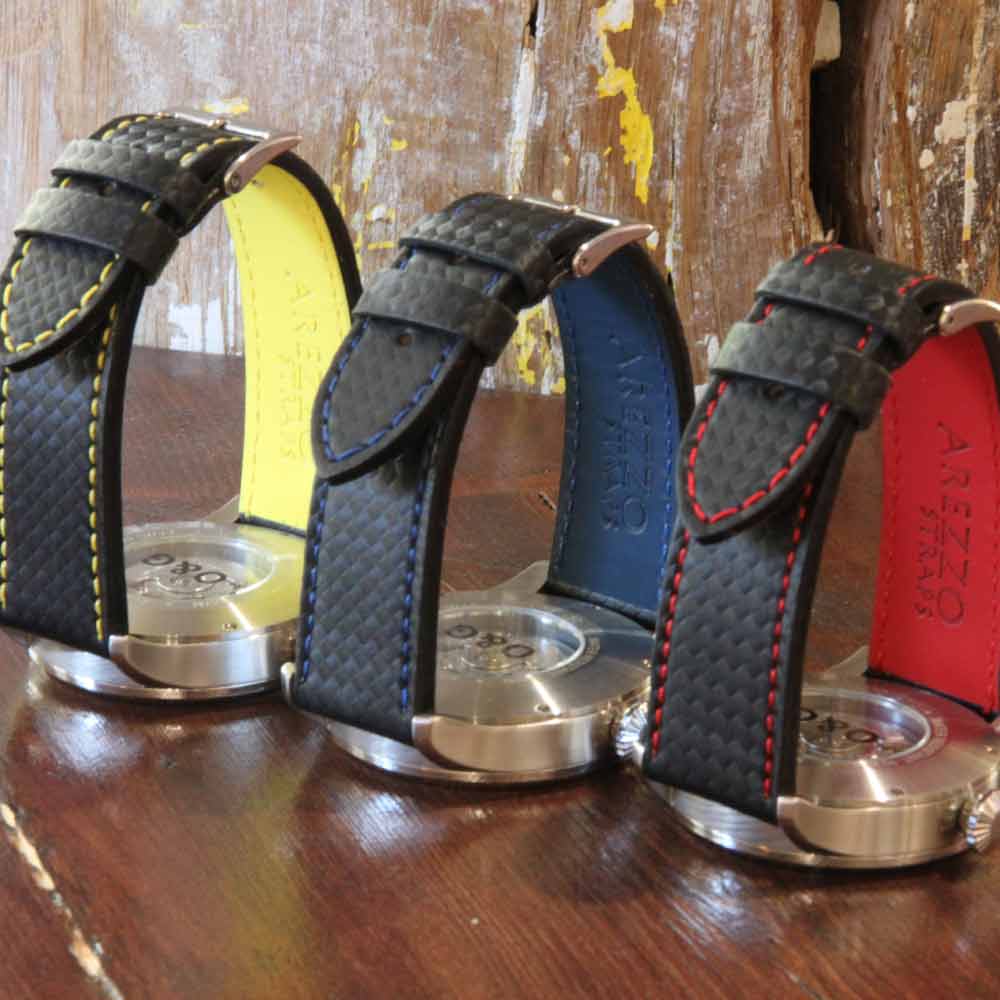 .
Precious and exotic leathers
Very popular in the luxury industry, the precious leathers concern ostrich, lizard, crocodile and alligator skins (the most expensive). They are imported from various countries outside Europe under the strict control of CITES.
Beware of counterfeits, especially when buying an Asian bracelet! A real ostrich skin has only a few spots on the surface (the feather hooks). A crocodile skin can be recognized by its slightly more rounded scales than the alligator. The real alligator has "square" scales but the alligator flank can be recognized by its perfectly circular scales. Note that the farmed crocodile will remain less expensive than the real Mississippi alligator! The can of luxuries are superb but unfortunately more fragile than a classic leather or "embossed" with the alligator look...
Some examples of precious leather straps available on our e-Shop :

Hirsch Capitano Alligator Black waterproof (available in 20 and 22mm on our website)

Arezzo Dark-CROCO Honey with rubber lining (available in 20 and 22mm on our website).
.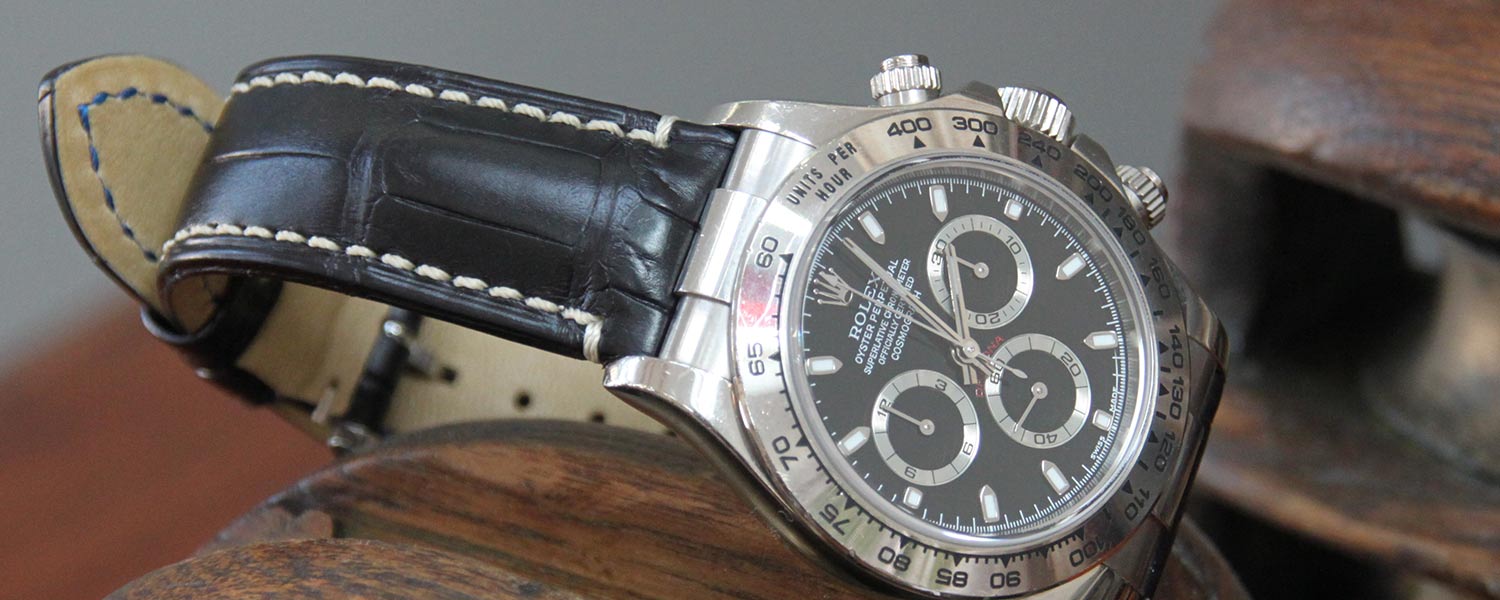 .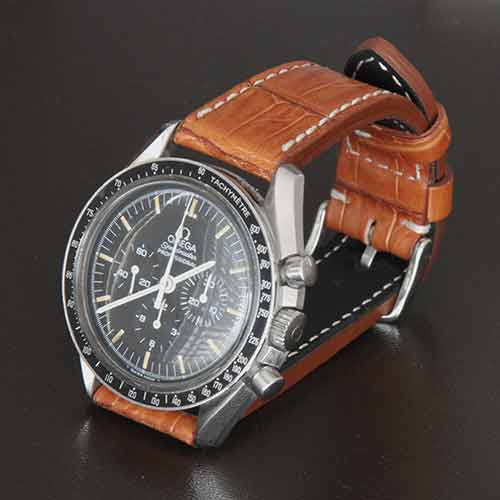 .
BUY HIRSCH CAPITANO 20MM . . BUY AREZZO DARK-CROCO 20MM
.
RALLYE type bracelets with holes for chronograph watches:
Very popular since the 2000s, RALLYE straps are making a comeback by riding the vintage wave. A perfect couple with vintage cars! They fit perfectly on CHRONOGRAPHIC watches such as OMEGA Speedmaster or other watches with 3 dials. The absolute "vintage" look remains the "3 holes" rally strap but recent watches will perfectly match the new multi-holes rally styles, less assertive but sometimes more chic depending on the clothing style adopted. The materials used are mainly the classic smooth leather or suede.
Photos of Arezzo Monza smooth leather bracelet 3 holes and Arezzo Maranello multi-hole bracelet (smooth or suede leather)
.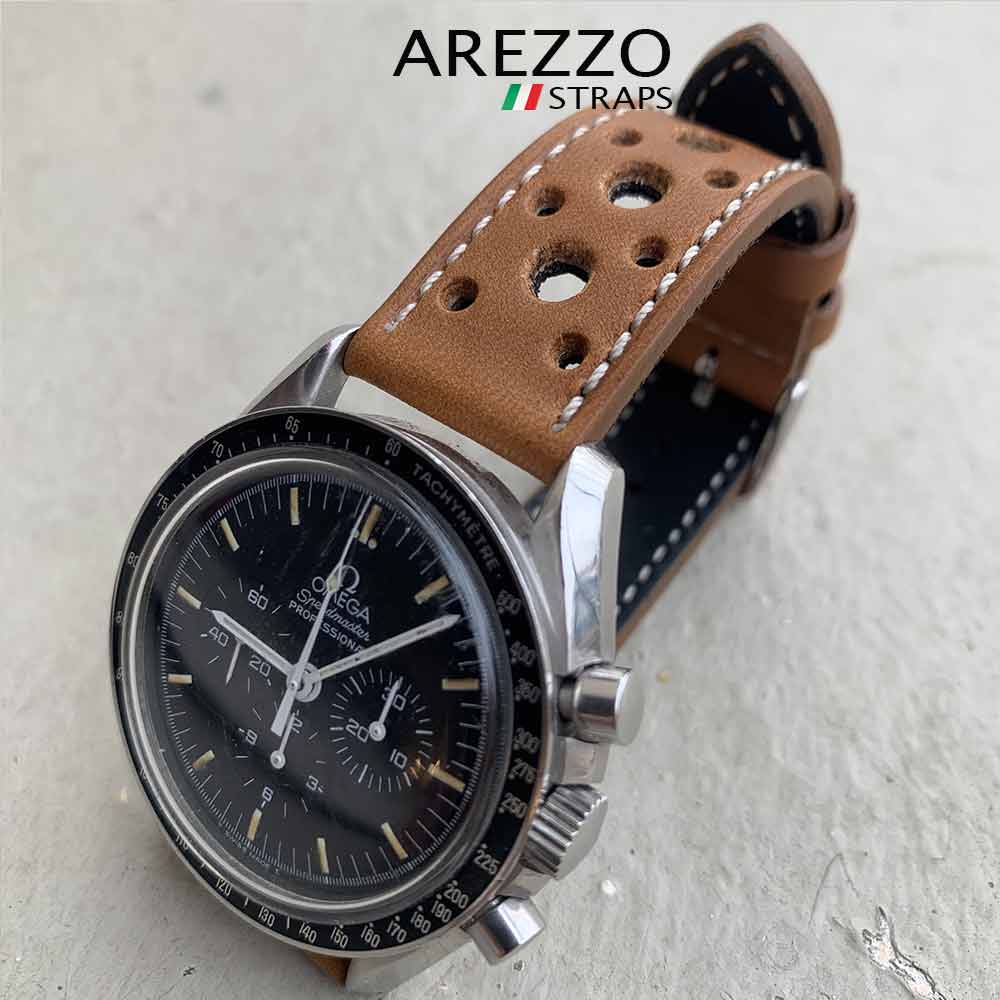 .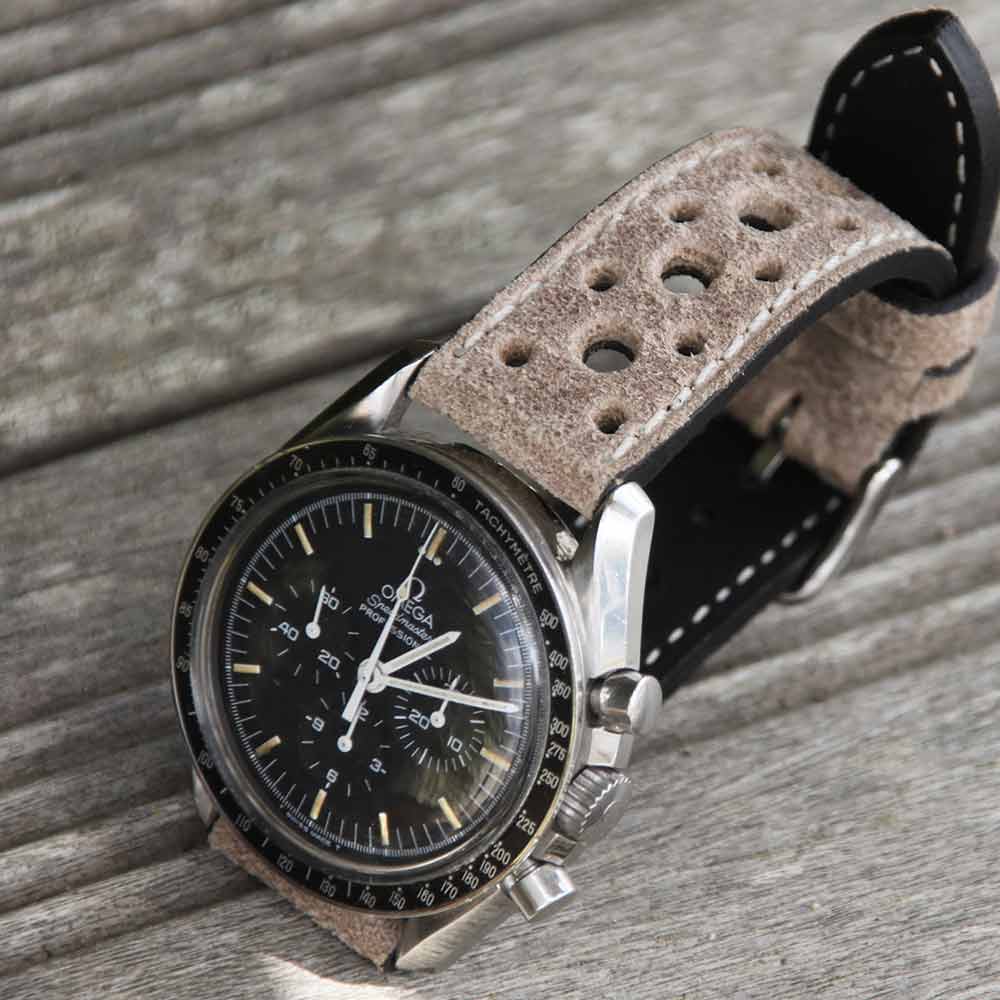 "Performance bracelets" with leather/rubber combination:
The spearhead of the HIRSCH brand, the Performance range offers a simple but effective concept: a genuine rubber core covered with classic or precious leathers. These bracelets are based on numerous patents, in particular concerning the checkered rubber part allowing a better drying and avoiding sweat in case of sports use! Waterproof - sauna resistant - waterproof 300m - a guaranteed cocktail for extreme flexibility and comfort. The real rubber base is available in many colors, enhancing the sporty character of these performance wristbands. Beware of counterfeits! Many sites offer bracelets with a similar look but poor technique, on a silicone base with a bonding of low-end leather, ultimately fragile and without technical interest.
Example : Hirsch James brown bracelet vs Hirsch Robby red and black


.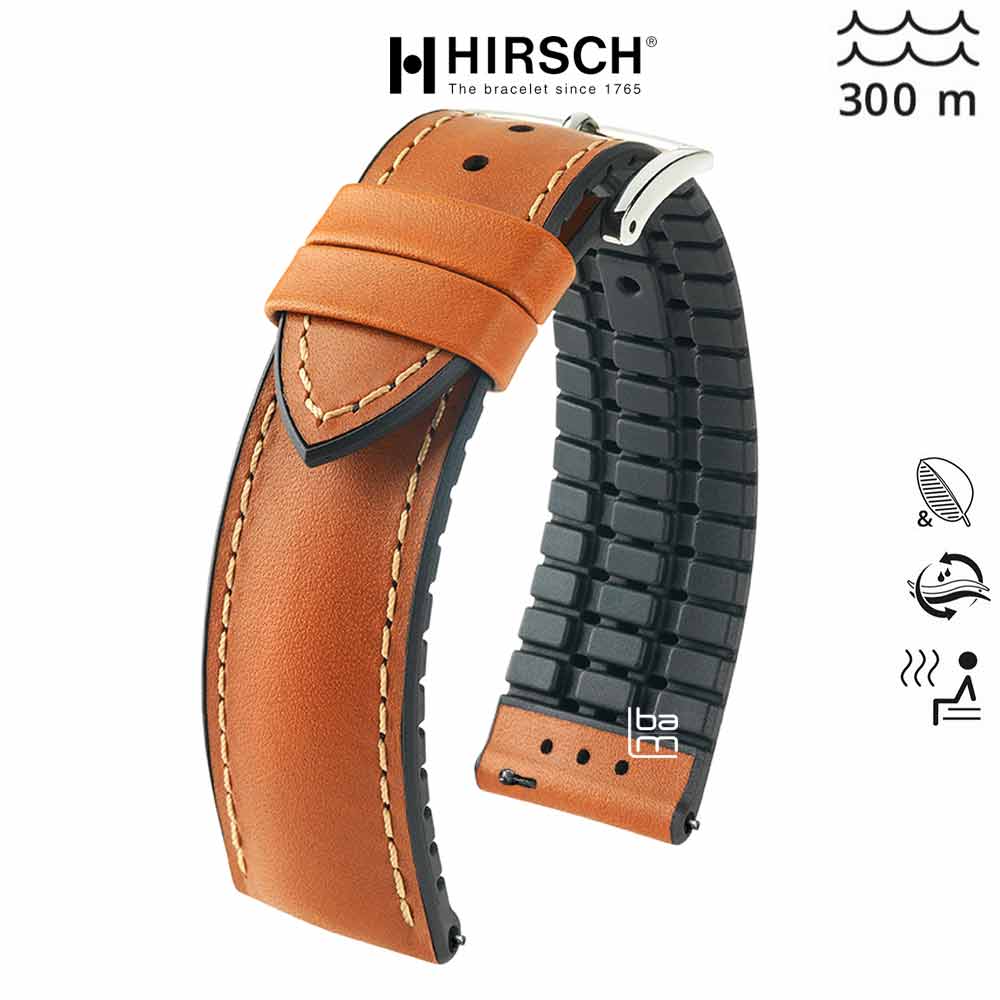 . .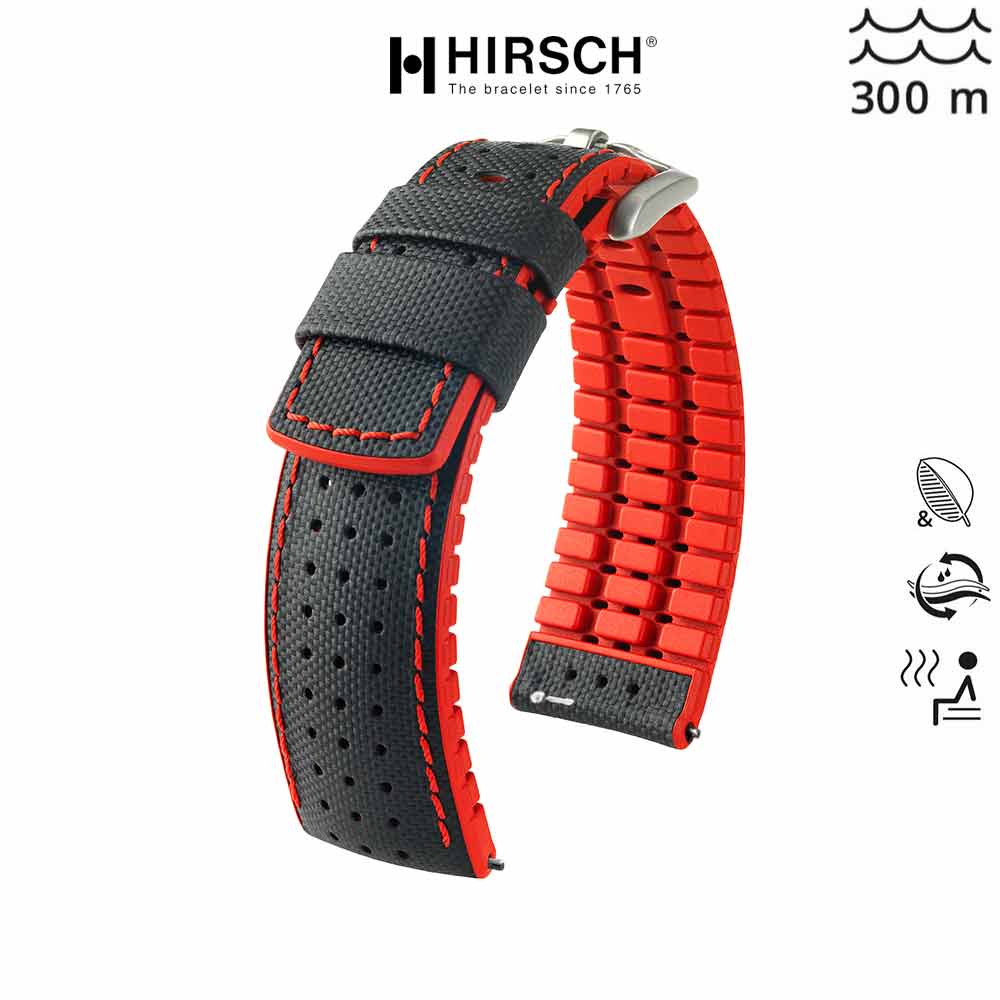 .
.
Technical or diving bracelets :
So-called "natural" or "synthetic" rubber? Beware of the subtlety of the material!
Rubber belongs to the family of elastomers. It is a material that can be obtained either by processing latex from certain plants such as the rubber tree, or synthetically from monomers derived from hydrocarbons such as oil or silicon.
Genuine rubber is the most expensive but offers a better longevity and its touch remains more pleasant than polyurethane or silicone (synthetic and elastic bracelet typically Asian). Real rubber and polyurethane bracelets are made in Europe, unlike silicone bracelets...

Rubber can be colored in orange, red, green... but is always more popular in black!

The characteristics of the natural rubber watch band:
- Tensile strength and tear resistance.
- Elastic rebound and heat resistance
- Perfectly suited for sports and diving
- Disadvantage: high price
The characteristics of the synthetic rubber watch strap :
- Attractive price
- The infinite colors.
- Easy molding but too much flexibility for technical bracelets
- Disadvantage: low durability / fatal crack!

Example: HIRSCH PURE black rubber vs HIRSCH PURE orange rubber
.
.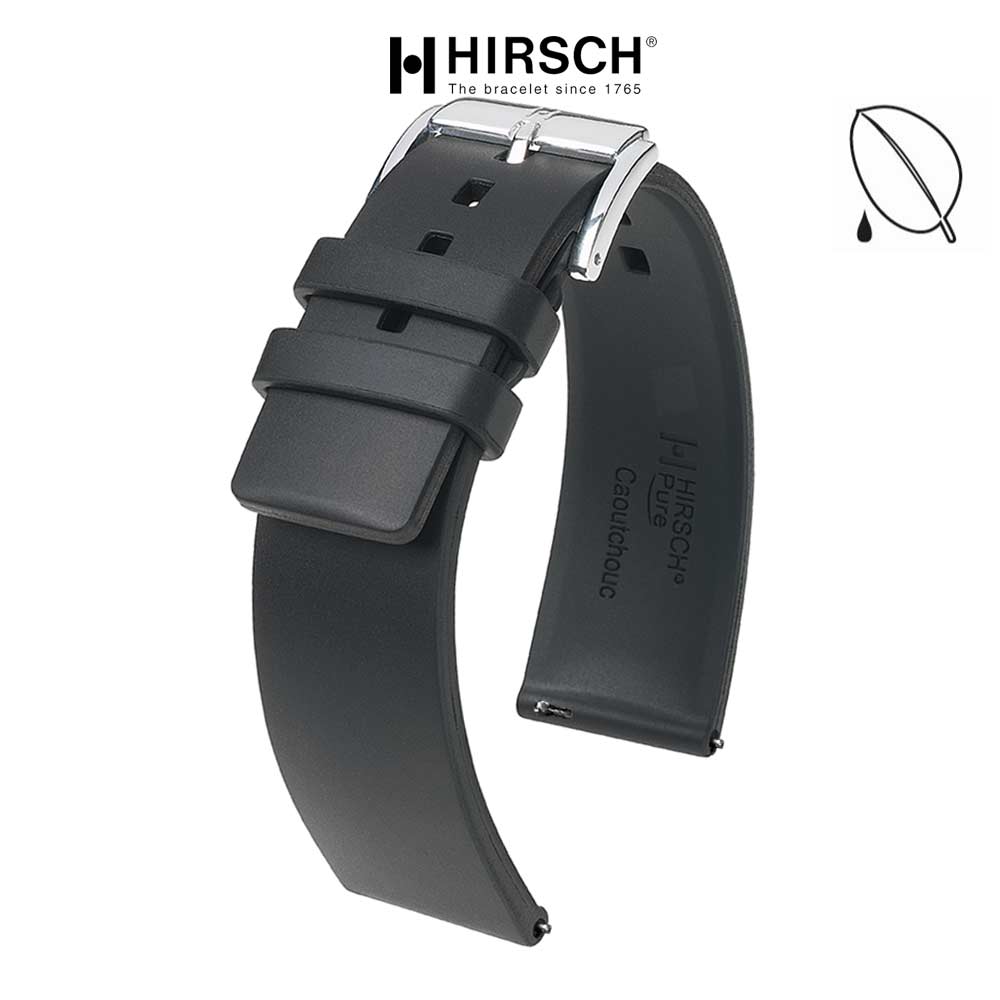 . .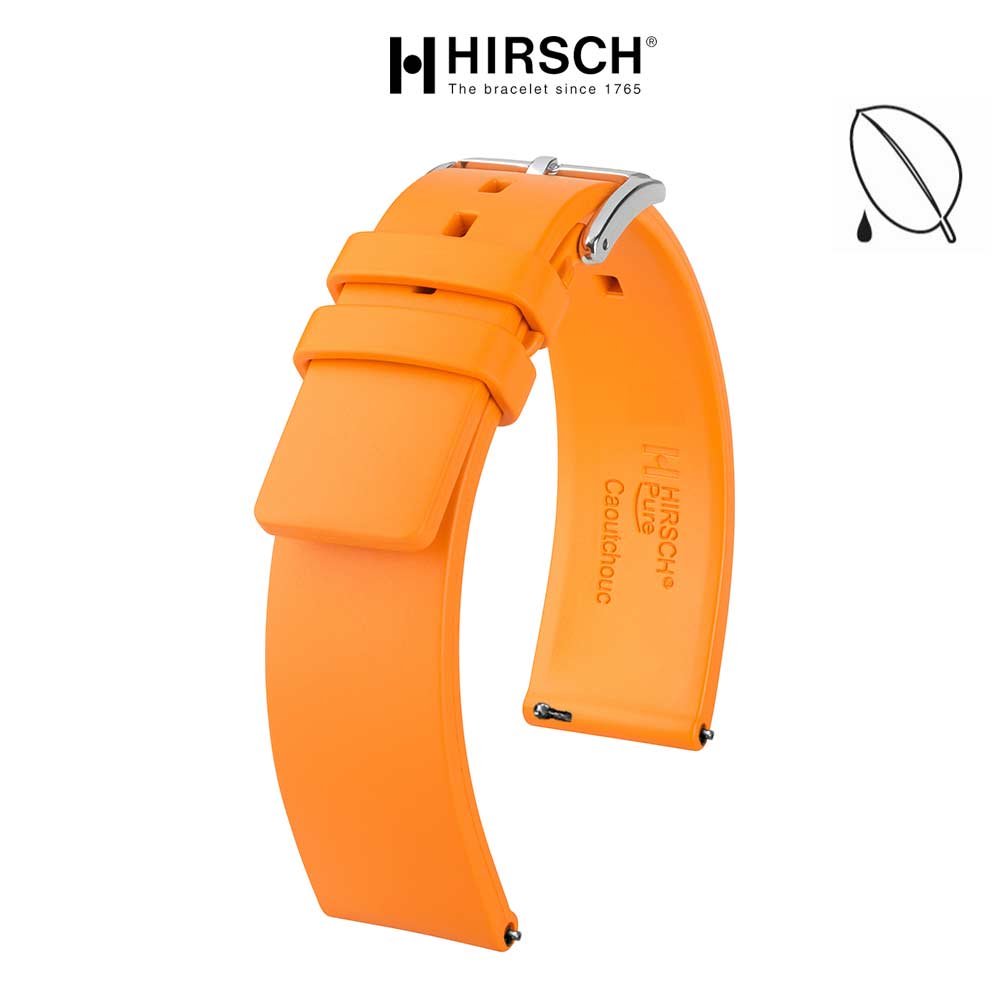 BUY Diving bracelets on our e-Shop
.
Color harmony of the watch band
There are different categories of bracelets, and a single watch can easily change its style according to the different models of bracelets... as long as a general harmony is respected!

Several aesthetic criteria must come together:
    Antique or modern watch ? chronograph or diver ? dressy or sporty ?
    Thick or ultra slim case?
    Color of the case / dial and hands ?
    Your personal look
    The choice of discretion, elegance and classic style
    A trendy dandy look or a sporty one

Here is an example of a completely standard Omega Speedmaster Vintage watch but equipped with different types of straps with the same photographic angle. Thus, the same watch doesn't have the same style at all with this accessory going from 19€ to 299€ !
The same watch can be dressed in different ways, just a question of style!
.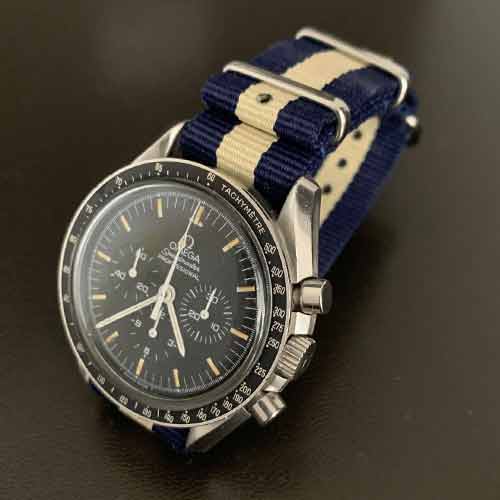 . .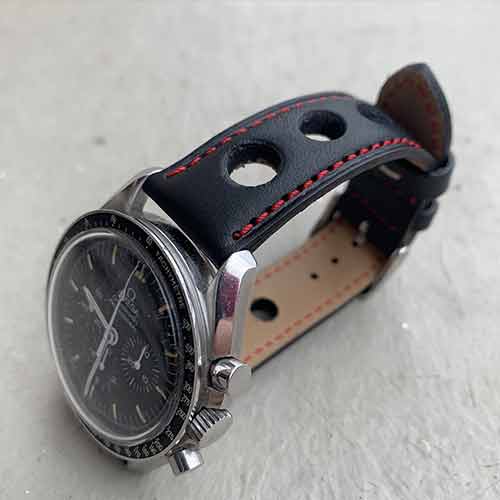 . .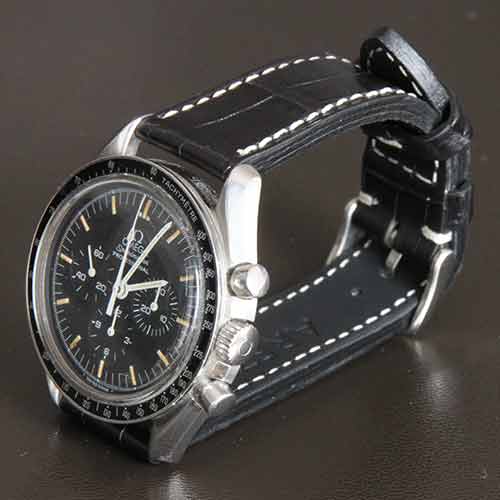 . .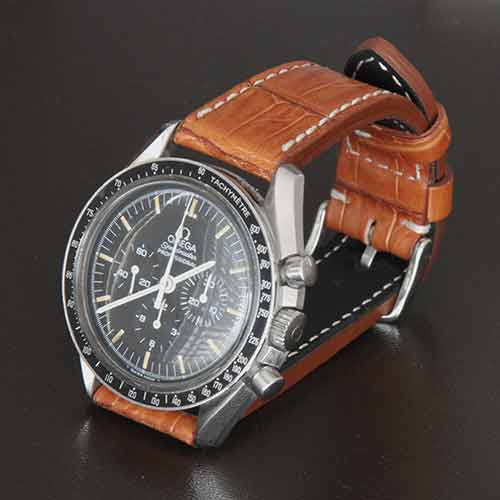 The basic artistic rule is already to harmonize the color of the bracelet with the dial or hands of the watch. Thus :

Antique watch with "yellowed" or patinated hands and indexes: Avoid seams that are too white in color. A bracelet without apparent stitching could be suitable, or even with tone-on-tone stitching, more discreet (black leather with black stitching). The apparent contrast stitching gives a sporty look to a bracelet that might not be suitable for an antique watch and a classic dress style.  Regarding the color of the dial, a black strap can be combined with a light or dark dial. The same goes for brown or beige bracelets. Navy blue bracelets are more complicated on antique and gold watches.

For modern watches, the indexes and hands are usually lighter, steel colored or painted white or red. The visible seams of a bracelet can then perfectly "match" with the hands. Regarding the red seams, they are interesting to give a sporty side but it is preferable to have a reminder of red with the writings of the dial or at least a hand (usually the second hand).
Buckle of the watch bracelet pin or folding clasp?
The pin buckles
The standard buckles of the "pin" type are based on the principle of belt buckles. The small holes on the long side of the bracelet allow for precise adjustment to the desired length. All our bracelets come with a standard buckle, usually in silver stainless steel. The buckles are also available in gold color. The pins are usually thin (for the small adjustment holes of the bracelet), but some sport bracelets adopt stainless steel buckles with large pins that require larger oval holes. Some watch brands offer very typical GPF style buckles with very large pins like PANERAI or BELL & ROSS.
Deployment buckles for watch straps
There are 2 types of folding buckles: the basic "V" folding buckles, with a simple articulation. Easy to install, they are "clipped" when closed by simple pressure.

The "butterfly" folding buckles are in 3 parts and therefore have 2 articulations. An integrated mechanical system locks the final closure. The buckles can only be opened by simultaneously pressing two side buttons, a guarantee of absolute security.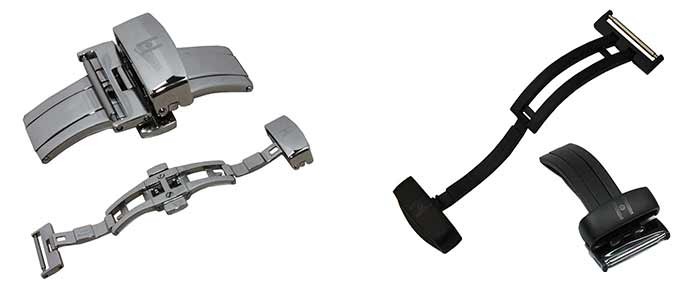 .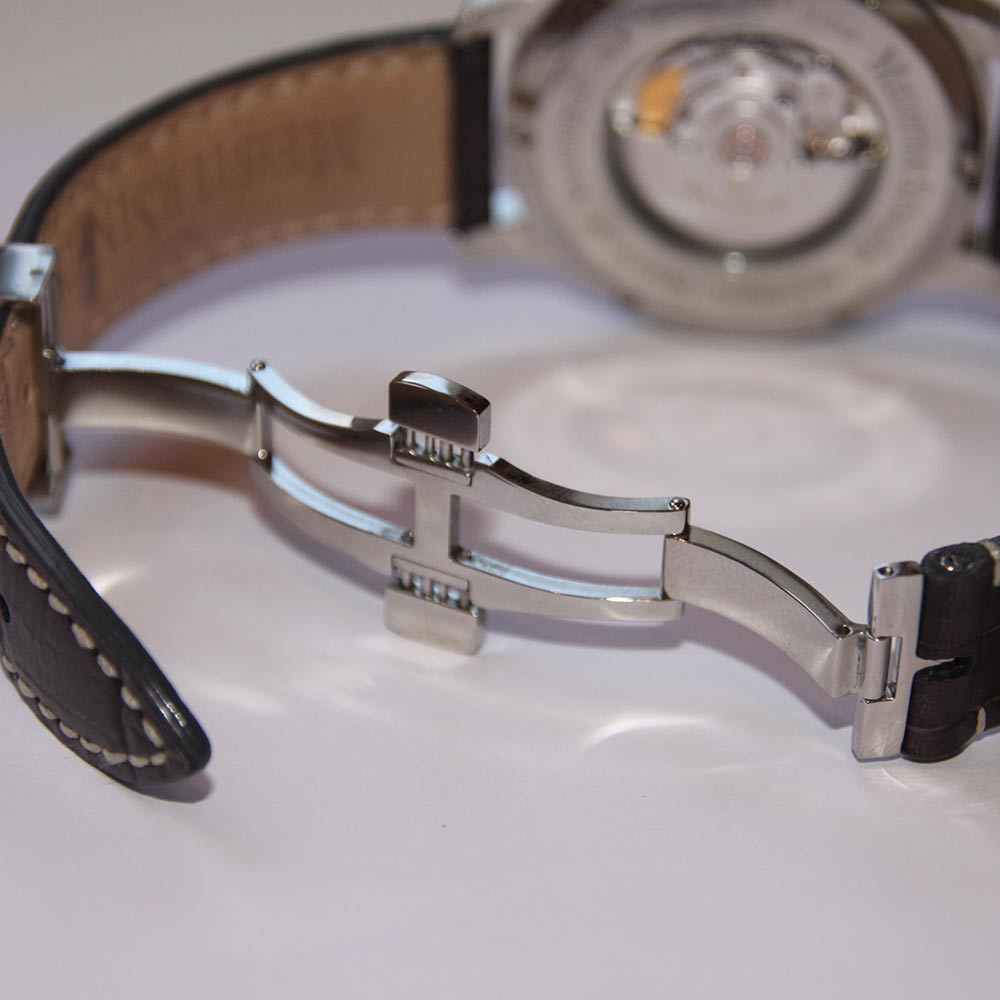 .
Some watch brands provide their watches originally equipped with deployant buckles. Some are called "standard" when they use the adjustment holes of the strap. In this case, the strap is standard and can be easily replaced by a Hirsch or AREZZO strap. Other brands, such as BREITLING for example, provide very specific deployant buckles, which "pinch" the strap to change the final position and length. In case of replacement, your new bracelet will have to be exactly the same thickness to be compatible with the pinching of your original buckle.
Installing a folding clasp on a standard bracelet!
Nothing could be easier! All our bracelets are equipped with a classic pin buckle ? We also offer two types of buckles (V or butterfly) that can replace the original buckle.
Example : If you buy a 20mm bracelet on our website (Hirsch or AREZZO bracelet in leather or rubber), the exact size of the bracelet will be 20/18 : width between lugs 20mm for 18mm buckle. In this case, it will be necessary to buy a "18mm" folding clasp to replace the original 18mm pin buckle...


Hoping that this "watch straps" file will have enlightened you enough!

Questions about automatic watch winders? Check our complete file by clicking on the following link!!
Do not hesitate to contact us by phone: 0033 9 80 84 88 08