Watch winders for automatic watches - how to choose the right one?
Questions about watch winders? Since 2010, Laboiteamontres has become the #1 Specialist in the European market of watch accessories. On this page you will discover everything about these famous "watch winders", very useful to keep your timepieces... always on time! A gift idea? Certainly ! Do not hesitate to contact us by phone.

Why use a watch winder for an automatic watch?
What is the basic principle and the ideal number of turns/day?
What are your storage and security constraints - safe - battery or mains power?
What are the most reliable and approved brands?
Understanding the winding programs
The short history of the first winders and our online-videos

Why use a watchwinder?
You have several automatic watches, and they stop in 2 days when not worn: watchwinders will be very useful!
Watch winders for automatic watches are designed to reproduce the natural movements of the wrist... so your watch will always stay on time!
When stored in a drawer, "shaking" a watch and then resetting it implicitly requires the manipulation of different pushers or crowns, putting unnecessary strain on the seals. Depending on the complications to be adjusted, resetting a watch can be tedious (especially in the case of perpetual calendars...).
The basic program generally proposes 1500 to 1800 turns/day
An automatic watch is recharged when it is worn, in motion. With each movement of the wrist, the internal rotor of the watch turns on itself and charges the mechanism. A watch winder will turn the watch on itself to drive the internal rotor that keeps the watch on time.
The vast majority of watches on the market require 1500 to 1800 revolutions per day to function properly. This number of daily revolutions is the standard programming of all our watchwinders. This level of rotation is still recommended for most ROLEX (Submariner, Daytona, Air King etc...), IWC, Omega, Breitling or TAG. This program is initially installed on the SWISS KUBIK watchwinders (Rolex approved), and is used by the majority of watchwinder models.
How to use an automatic watch winder?
Very simply! When you take off your watch, you just have to install it in a winder instead of storing it in a drawer, so that it keeps a minimum of energy to stay on time and on the right date.

1- remove the watch
2- install it on the watch stand
3- insert the watch holder in the center of the watch winder
4- start the winder !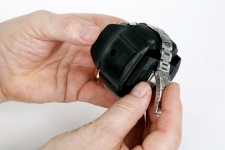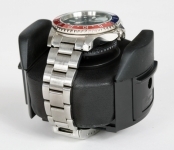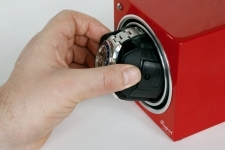 The choice of the winder according to your constraints: safe? battery?
In addition to the winding of your watches, your winder will be subject to various constraints!

Will it be locked in a safe or out of sight? If so, the answer is obvious: it will have to run on battery with a long autonomy. However, be careful: depending on the brand and the selling price, the battery life varies significantly: Swiss Kubik and Scatola del Tempo allow more than 2 years of autonomy with 2 Duracell batteries, the best autonomy ever! The other brands always offer the mains connection as a priority, reliable but... less practical in a safe... Handling a watch winder (inserting or removing the watch) is easier if the winder is battery operated, and not connected to its adapter. We recommend DURACELL or ENERGIZER batteries for their longevity and constancy of supply (do not use rechargeable batteries).

Will it be displayed in your living room or is it a birthday gift? If so, then its design will be just as important! Black or beige leather? Carbon or black aluminum finish? With a glass front? The rule is unfortunately quite simple, the price increases with the luxury of the finish...
The most reliable, recognized and approved brands:
Low-end products ? Not to be found on this website! A watch winder for less than 100€ bought on Asian or mass-market websites will be, according to us, a source of inevitable problems (poor quality motor / watch support links; life expectancy of electronic cards, excessive battery consumption, risk of magnetization due to a bad location of the motors or their poor quality etc...).
All our watchwinders are CE certified and some brands have been approved by the most important watchmakers, therefore designed for 100% automatic watches.
The winders will turn the watch on itself (full rotations), and the watch will be wound and always on time. Different rotation programs are sometimes available. However, the standard program is always offered.
.
SWISS KUBIK Watchwinders: Rolex approval and autonomy of more than 2 years!
.
The Swiss brand is the first to have been "approved" by ROLEX: the initial program of winding is 1600turns / day, that is to say 800 to the right and 800 to the left distributed over 24 hours. The laps are done intermittently throughout the day, spaced out by large 20-minute breaks. The big advantage of SWISS KUBIK is its low power consumption: 2 Duracell batteries (included) provide a battery life of 2 to 3 years, ideal for storing the winder in a safe! Guaranteed for 3 years, direct drive motor, no belt, therefore a guarantee of reliability. And above all 100% Swiss Made. The world TOP.
SWISS KUBIK STARTBOX Watchwinder:
Entry price and standard program. Equipped with the famous SWISSKUBIK high-performance mechanism, the STARTBOX is the first price of the Swiss brand. The frame is made of injected ABS with a soft-touch matt finish. Many colors are proposed but the black is very popular to start its collection. The rear LED warns of battery wear.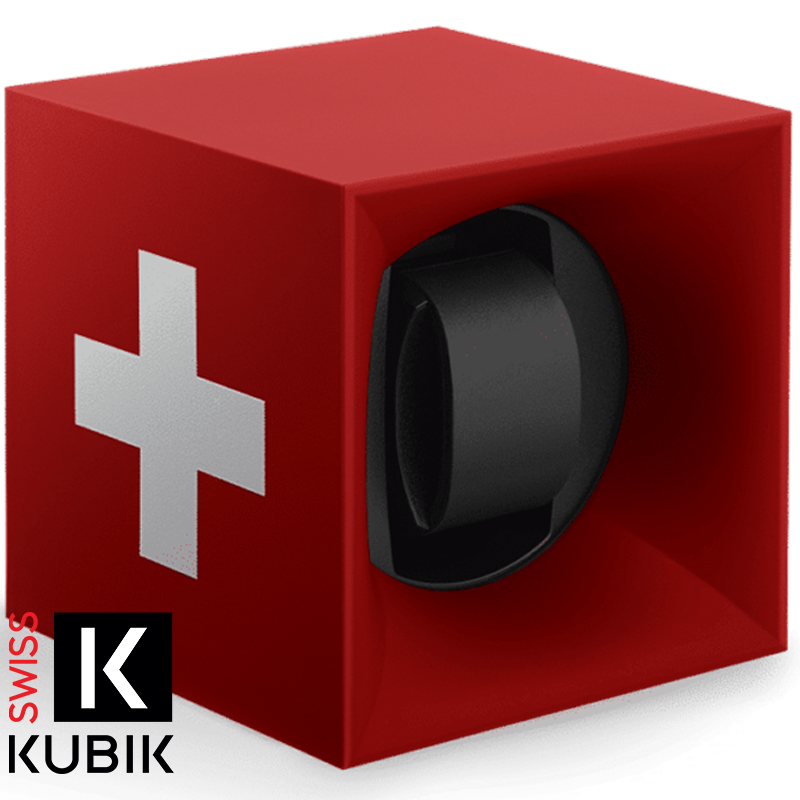 . .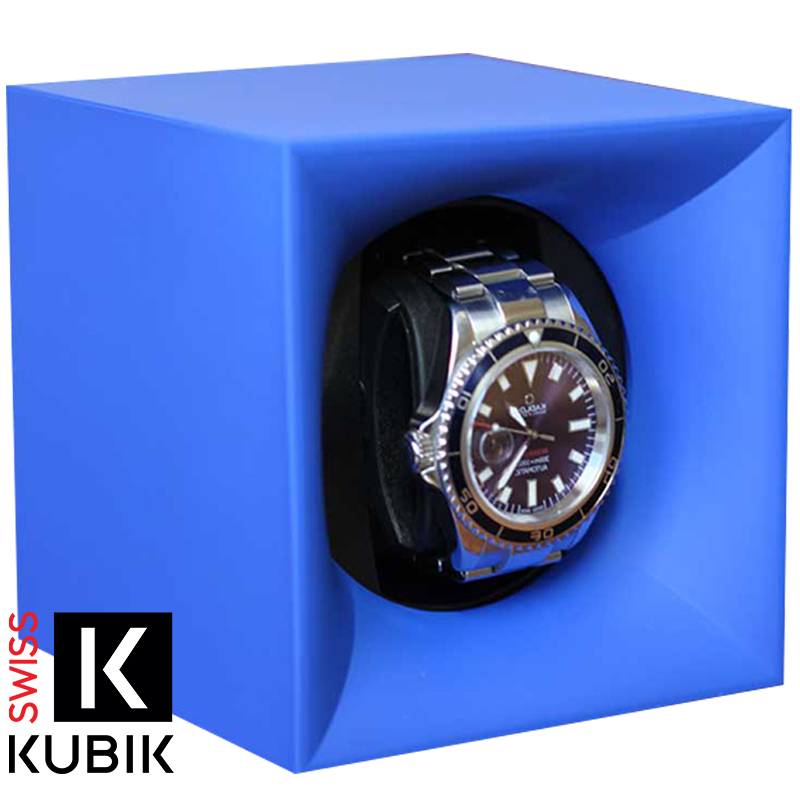 . .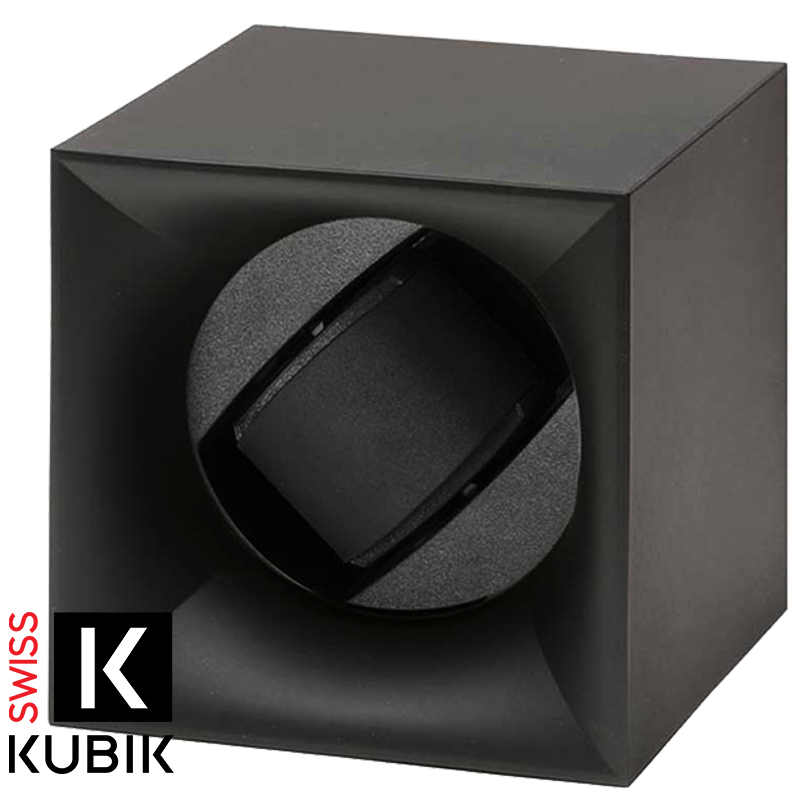 .

The SWISS KUBIK MASTERBOX ORIGINAL watchwinder: the reference!
Compact (perfect cube of 10cmx10cm), the frame is made of anodized aluminum available in different colors or covered with leather or other noble materials like wood, carbon or titanium. Rolex approved, it offers the initial program of 1600trs/day but remains programmable in bluetooth with a smartphone. Option available: solar energy, glass in front and watch support for small wrists. The led in front of the watch warns of battery wear.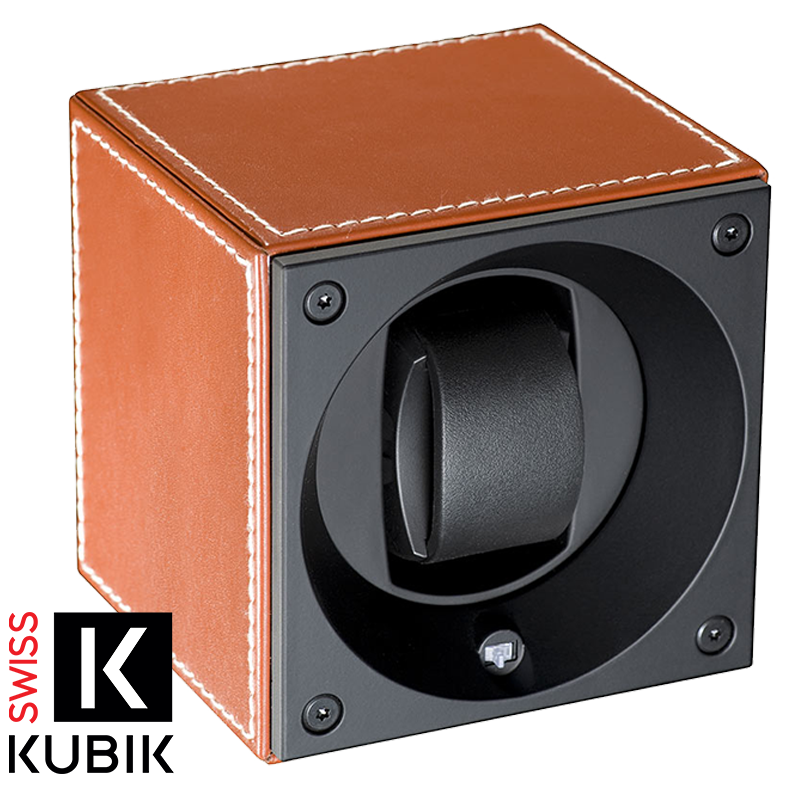 . .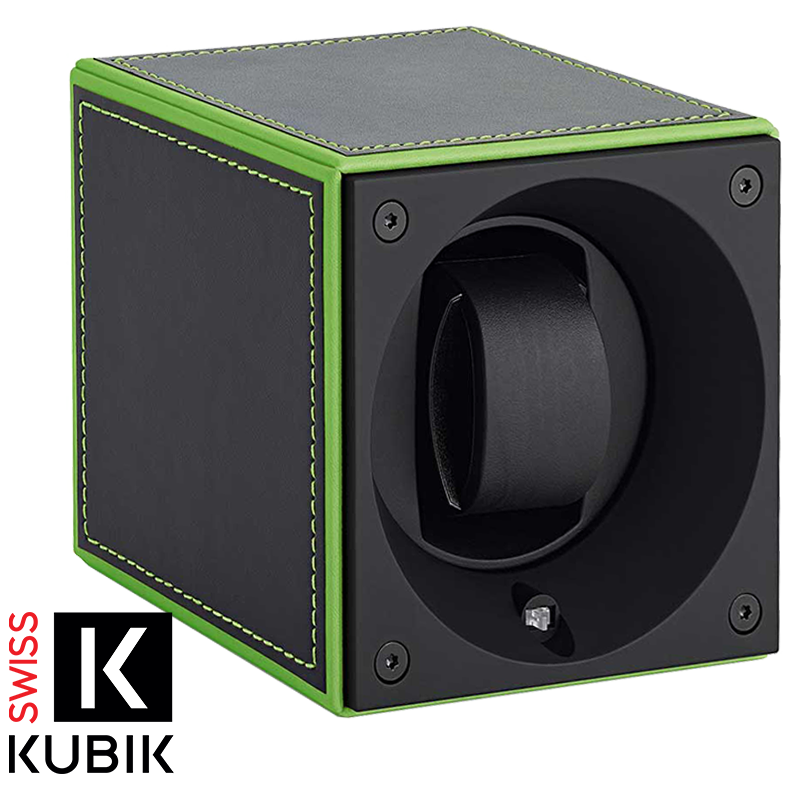 . .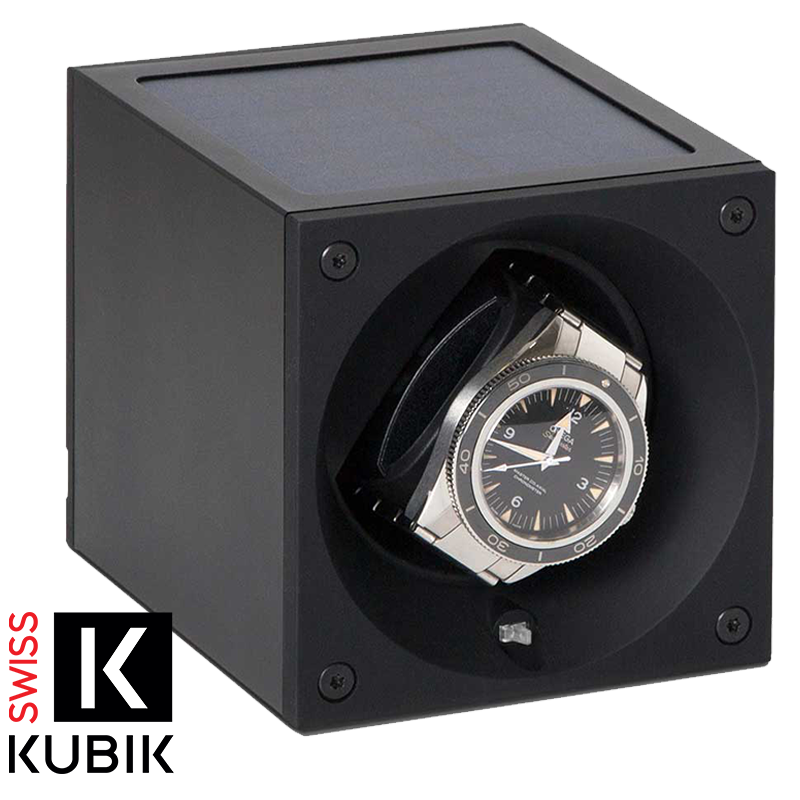 .
.
SCATOLA DEL TEMPO winders powered by Swiss Kubik

The Italian brand, acquired by SWISSKUBIK in 2019, has enjoyed PATEK PHILIPPE recognition for many years and has been using SWISS KUBIK motorizations and programs since 2019.
The ROTOR ONE range of watchwinders:
Equipped with the SWISSKUBIK motorization and mechanism, the Rotor One offers the standard winding that is 1600tr / day with large phases of breaks. Guaranteed for 3 years, direct drive motor, no belt, thus guaranteeing reliability. Battery operation (long battery life of 2 to 3 years!). Strong point: exceptional finishing, leather sheathing, manufacturing in Italian family factory. Front bezel with different styles of colored glasses with the effigy of Rolex...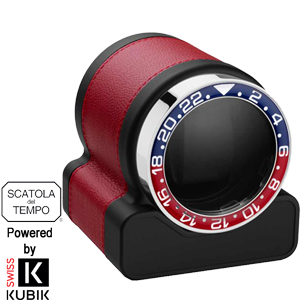 . .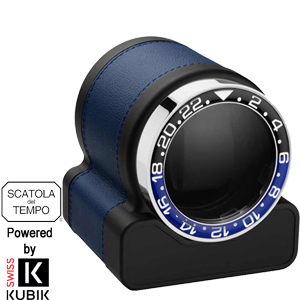 .
.

The Cabinet watchwinder SCATOLA DEL TEMPO 7RT:
Excellence and luxury! Box covered with Italian grained leather in the manufacture SCATOLA. In the upper part, 4 leather cushions will welcome your most beautiful calibers. In the lower part, 3 SWISSKUBIK MASTERBOX winders are discreetly integrated and individually programmable by bluetooth. Battery life over 2 years! The must... quite simply ! The Swiss technology in an Italian case...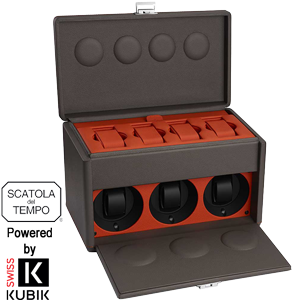 . .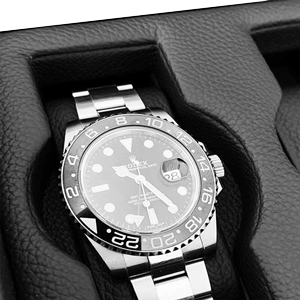 . .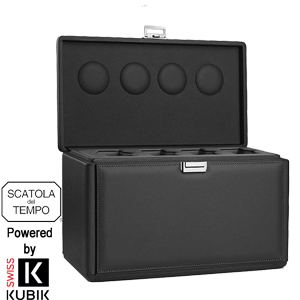 . .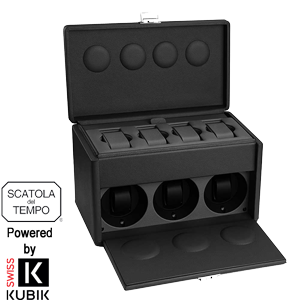 .
.
The watchwinder RAPPORT LONDON: excellent value for money
Cube EVO MK :
The British brand offers its new CUBE EVOLUTION in MK version since 2021, still at an attractive price. The advantage lies in its robustness and contemporary design. The MK3 version works mainly on sector, with a battery option that allows storage in a discreet environment for 18 months autonomy. Useful in case of departure on vacation to hide the winder in the trunk. 9 predefined programs including the famous 1600 turns / day bidirectional (800trs right + 800trs left) as the reference winders KUBIK. Direct drive motor, no belt, therefore increased reliability.

The EVO MK3 watch winder is available in individual modules in many colors. They can be assembled in boxes of 2 or 4 winders. In this case, only one common 220v power supply will be used (one plug for 2 or 4 winders), or use batteries.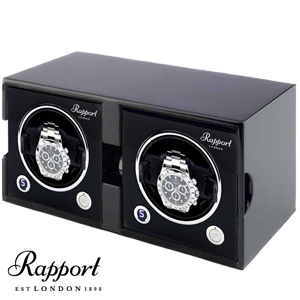 . .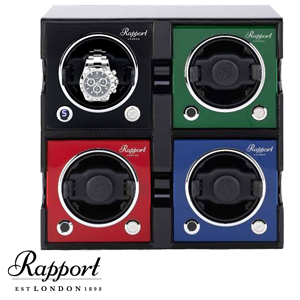 ..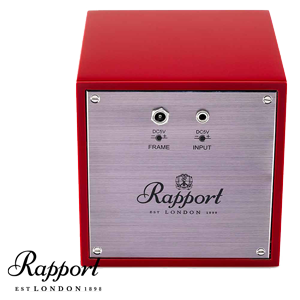 ..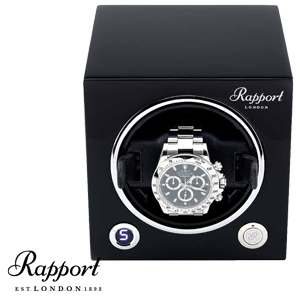 .
.
DISCOVER EVO MK3 ON OUR E-SHOP

.
The multiple winders FORMULA Rapport London:
Real pieces of decoration in your room or living room, the winders "cabinets" of the brand Rapport London are assembled by 2 - 4 or 6, allowing the simultaneous winding of several watches with different programs of rotation if necessary. The finish is very neat, glass in front, key lock and led. Connection to the mains.


.
.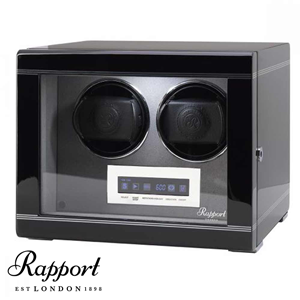 . .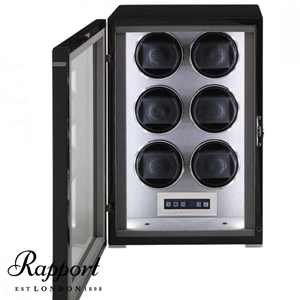 DISCOVER FORMULA ON OUR E-SHOP

..
BECO TECHNICS watchwinders: an attractive entry price

The BECO brand offers aesthetically pleasing Asian-made watchwinders with a choice of numerous winding programs. However, they are ideally used with lightweight women's watches (internal belt drive) and only operate on mains power. The winding system is based on a motor driving the belt winding system (long-term wear part for heavy watches). Attractive price and neat finish.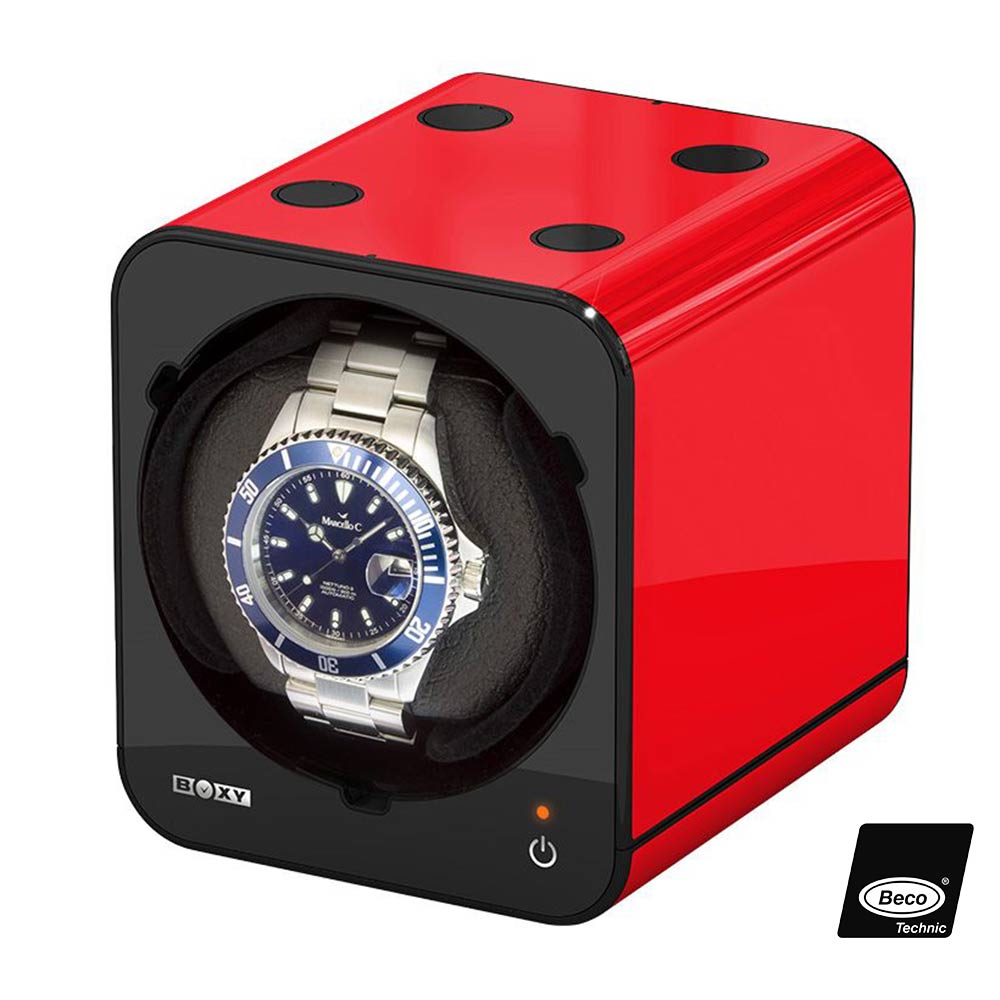 ..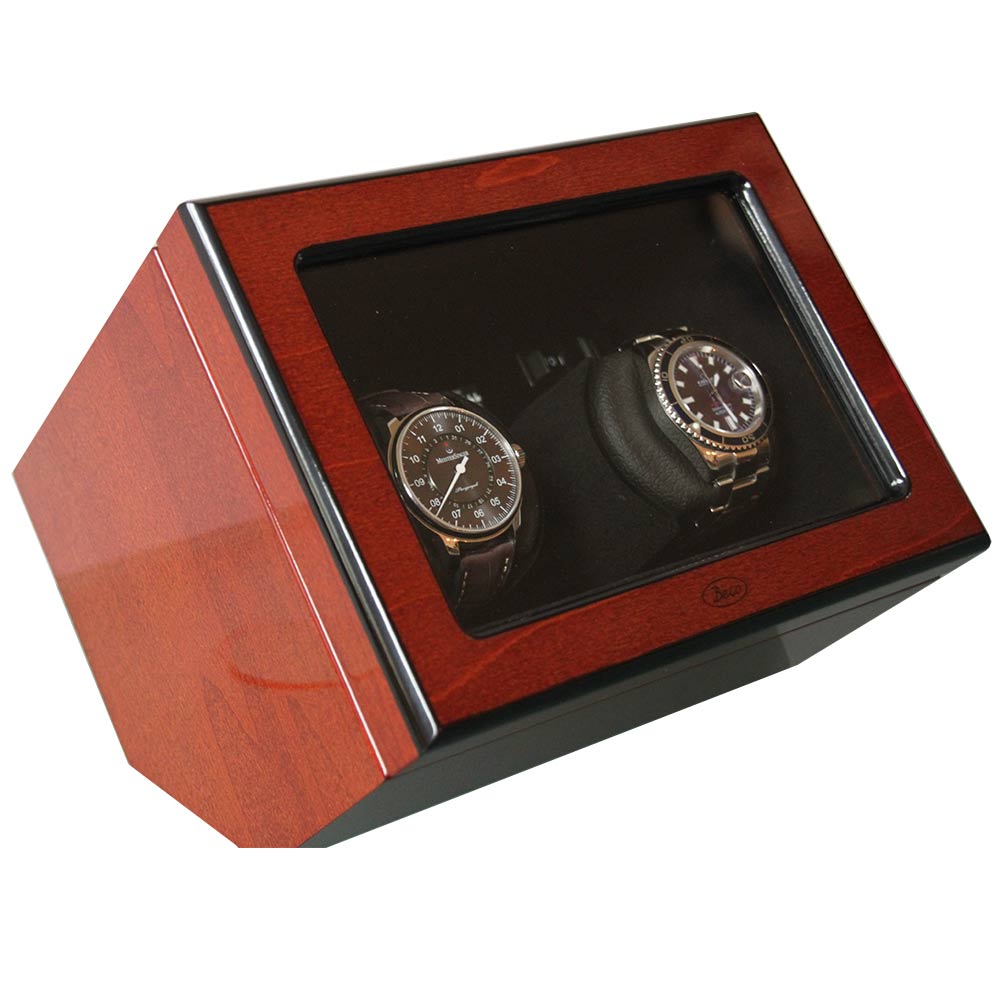 .
.
BUY BECO WINDERS ON OUR E-SHOP
.
Understanding the different winding programs!
The classic 1600rpm/day program:
Non-programmable watchwinders generally offer a standard program of around 1600 rpm, i.e. approximately 800 revolutions clockwise and 800 revolutions anticlockwise. The pause phases are therefore numerous throughout the day. Good quality winders make these turns slowly, and the pause phases are in the "vertical" position (the watch allowing to read the time when the winder is stopped). This program is globally compatible with 100% of automatic watches.
Does this number of revolutions seem excessive to you? SwissKubik is Rolex approved with this style of programming... and you should know that a watch worn on the wrist can turn your mechanism rotor more than 10,000 rpm per day!
Programmable winders:
ome calibers of antique or modern watches need to be wound on one side only (clockwise or sometimes counterclockwise). In this case, the classic program is useless. Some watchwinders can thus offer several choices. They allow to program a precise number of revolutions (500 ? 650 ? 950 ? 1800 or more) per day, in order to keep the watch wound from 60 to 80% throughout the day. It can be adapted to all watches on the market, old or modern, whatever their complications or weight. Some are programmable at will (Swiss Kubik Master in Aluminum or Leather - SCATOLA 7RTprogramming via BLUETOOTH), others offer a choice of predefined programs (RAPPORT LONDON MK2, Beco Atlantic, BECO BOXY etc. ...). Compatible with 100% of automatic watches!
The pauses between the winding cycles:
This principle is IMPERATIVE and is proposed on all our watchwinders.  Indeed, some "low-end" Chinese watchwinders wind the mechanisms in continuous mode, forcing a 100% winding over many hours. We do not recommend this type of winder (Asian origin, low cost 50 to 100euros). A period of winding followed by pause phases allows the maintenance of a constant and intermediate torsion/tension of the mechanisms and therefore of the balance spring, without unnecessary wear and tear, guaranteeing better precision over time.
Battery / mains or rechargeable batteries?
Our watchwinders are powered either by standard batteries (Duracell, Varta, Energizer...) or by mains. Some of them offer both power supply modes: battery or mains.

If you use a battery, be careful with the autonomy ! An entry-level watchwinder has a battery life of a few weeks or months and will therefore consume more batteries than a SWISS KUBIK or SCATOLA (more than 2 years of life with 2 batteries!). In case of safe storage, this criterion of battery life is essential!
History of winders and video demonstration...
Automatic watches are designed to be worn while moving. In the case of some old watches (recent watches do not have this problem), a very prolonged disuse can freeze the lubricants in case of absence of revision, and the lubrication resumes only partially when restarting, source of loss of precision of mechanisms. Self-lubrication is at the heart of the mechanisms, and therefore essential.

If the invention of the waterproof watch goes back to the beginning of the 20th century (patent registered by ROLEX and protected for many years) in order to alleviate the historical problem of waterproofness of timepieces, the "automatic" mechanisms are much older! This dates back to 1777, and the principle was developed by a certain Louis Perrelet. However, the first productions only started in 1926 and from then on, the "watch turners" appeared.

Initially rustic, the "turn-watches" have evolved well, and are now presented in modern forms, design, with reduced space and extended autonomy ... They are commonly called "Watchwinders"!
Video of an automatic watch winder in motion :
Here is an example of a Swiss Kubik watch winder in video:
.
.
Any advice ? For any additional question, contact our customer service every day from 10am to 8pm : serviceclients @ laboiteamontres.com

By phone : 00 33 9 80 84 88 08
update nov 2021