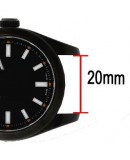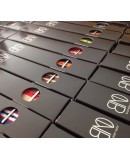 NATO CONCEPT blue orange 20mm bracelet nato
NATO CONCEPT BRACELET blue and orange - with a very soft silky weave. Brushed stainless steel loops with a more angular profile and removable brushed stainless steel buckle secured by its double shape. A premium finish for a NATO bracelet. This bracelet will perfectly fit a Rolex submariner, or TUDOR Black BAY watch etc...
TOP premium finish for a NATO bracelet. Made in Europe. Original NATO strap has been designed in the sixties following the request of the British Army. Its original name derives from North Atlantic Treaty Organization : NATO. A strap for gentlemen, smart and elegant...
new collection
Same Category