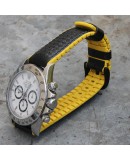 Watchstrap Hirsch AYRTON yellow 22mm and Carbone Leather
Hirsch AYRTON Watchstrap yellow is 300 m Water-Resistant. Strong and hi-tech bracelet with its carbon-structured TECNO upper leather. Ayrton's sporty and masculine character is naturally determined by the tone-in-tone stitching and oval holes. Mat black stainless steel buckle.
     
HIRSCH Ayrton bracelets, manufactured in Austria, are the finest, the most advanced and the most richly detailed in the watch industry. HIRSCH has been, from the very beginning, the main specialist in the handling of leather, and the combining of leather with other technical materials. The Austrian company links up with all specialists over the world in the search for the finest and most innovative materials and combinations. HIRSCH bracelets and straps are of course supple, highly detailed, fine and noble.
All bracelets for watches are manufactured in Austria with precision and without any compromise.
Standard  Length (200mm)
Waterproof

Buckle steel black: included
Width buckle : 20mm
Width watch : 22mm
The perfect marriage of appearance and technology:
HIRSCH Performance Collection styles are a perfect marriage of traditional leather craftsmanship and cutting-edge bracelet technology in unique HIRSCH quality. The HIRSCH Premium Caoutchouc's special geometry and superior groove structure ensure constant ventilation for the wrist. Moisture that develops can quickly evaporate, ensuring a high level of wearing comfort and maximum freedom of movement in any situation. HIRSCH Performance Collection bracelets are extremely sturdy and robust – . The combination of different types and colours of leather imposes virtually no limits on personal surface finish and design preferences. The range of HIRSCH Performance Collection styles extends from sporty and dynamic to sporty and classic, so the wearer is free to choose from a very wide range to suit his watch. The bracelets from the HIRSCH Performance Collection combine a multitude of features, thus representing a special highlight for the consumer.
new collection
Same Category