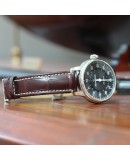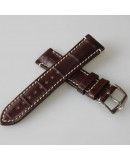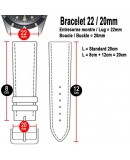 Watchstrap Hirsch Capitano Alligator dark brown 22mm
Hirsch Watchstrap Capitano 22mm genuine Alligator dark brown is 100 m Water-Resistant. It is made from Alligator Skin. The lining leather makes viscount one of the most durable bracelets in the world. White stiches, casual look
Watchstrap Hirsch Alligator Capitano dark brown. Capitano Alligator watchstrap is the first 100 m water-resistant Alligator Skin bracelet in the world.
The technology which ensures this characteristic was developed by HIRSCH in cooperation with a specialist Italian tannery. The hide of a genuine Louisiana alligator was tanned to be water-resistant and is seamlessly attached to the water-resistant lining leather by means of the HIRSCH Rembordé technology
HIRSCH Oysterglove Supersoft : The rembordé technology invented, patented and continuously developed further by Hirsch, joins upper and lining leather without any seam.
Hirsch bracelets are thus perfectly protected from externals influences, highly resistant to wear and very long-lasting. 
Waterproof 100m
Genuine Alligator
Standard  Length (200mm)
Buckle steel : included
Width watch : 22mm
Width buckle : 20mm

new collection
Same Category